STORY HIGHLIGHTS
NEW: Ex-U.N. official blasts "incredible incompetence" in leak
Clinton says leak "puts people's lives in danger"
NATO commander: Cybersecurity needs improvement
Obama is "not pleased," spokesman says
(CNN) -- The United States' top diplomat condemned Monday the secret-busting website WikiLeaks' release of hundreds of thousands of documents that detail with unusual frankness the nation's diplomatic interactions with other countries.
The illegal disclosure of secret information "puts people's lives in danger, threatens our national security and undermines our efforts to work with other countries to solve shared problems," Secretary of State Hillary Clinton said.
"This disclosure is not just an attack on America's foreign policy; it is an attack on the international community, the alliances and partnerships, the conventions and negotiations that safeguard global security and advance economic prosperity."
Soon after, a U.S. official said the State Department was halting access to its diplomatic cables as it evaluated security of its classified document system and diplomats worldwide scrambled to assess the severity of the disclosures.

Where WikiLeaks and 'don't ask' may meet

Diplomatic damage control?

Obama 'not pleased' with disclosure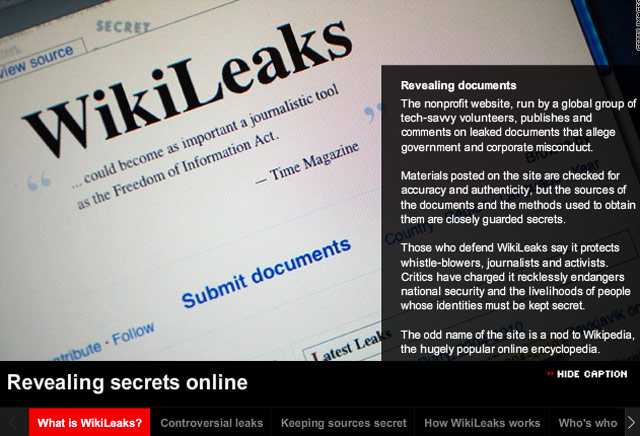 Revealing secrets online
WikiLeaks began publishing more than 250,000 diplomatic cables from U.S. embassies around the world Sunday in what it said was the largest-ever disclosure of confidential information. The cables will be released over the course of several months, giving the world "an unprecedented insight into the U.S. government's foreign activities," it said.
Clinton expressed confidence that U.S. diplomatic efforts will survive the leak of the documents, whose authenticity she would not confirm but which lay out in detail the diplomatic sausage-making that is usually hidden from public view.
"I can tell you, in my conversations, at least one of my counterparts said to me, 'Don't worry about it; you should see what we say about you,' " Clinton said. "I would hope we would be able to move beyond this and back to the business of working together." But she added, "The United States deeply regrets the disclosure of any information that was intended to be confidential."
WikiLeaks said the documents will show what its editor-in-chief and spokesman, Julian Assange, called American "backroom deals," spying on its allies and refusal to confront corruption and human rights abuses among U.S. client states. But Peter Galbraith, a former U.N. official in Afghanistan, told CNN's "Parker Spitzer" that "Some of this double-dealing is very much in our national interest."
"It certainly is in our interests to have Saudi Arabia being privately on our side even if it's taking a public stance against us, and to be able to communicate that to us," he said.
Many of the cables detail conversations on sensitive issues between American officials and leaders in the Middle East, Afghanistan and elsewhere. Among the initial revelations in the papers are allegations that:
-- Saudi King Abdullah urged the United States to attack Iran to halt its nuclear program, warning that if Tehran were to go nuclear, other countries in the region would, too.
-- The United States keeps bombers ready to strike al Qaeda targets in Yemen if "actionable intelligence becomes available."
-- The U.S. ambassador to Zimbabwe predicted in July 2007 that President Robert Mugabe would soon be out of power, saying, "The End is Nigh." Mugabe remains president, although he is now in a power-sharing agreement with the former opposition.
The leaked papers also include what seems to be an order from Clinton to American diplomats to engage in intelligence-gathering. In the order, Clinton directs her envoys at embassies around the world to collect information ranging from basic biographical data on diplomats to their frequent flyer and credit card numbers, and even "biometric information on ranking North Korean diplomats."
Typical biometric information can include fingerprints, signatures and iris recognition data.
The State Department denied that its diplomats were spies.
"Contrary to some Wikileaks reporting, our diplomats are diplomats. They are not intelligence assets," State Department spokesman P.J. Crowley said on Twitter.

WikiLeaks: China's N. Korea stance

WikiLeaks: Public has 'right to know'

Ahmadinejad: Leaked info not valuable

What is WikiLeaks?
But Galbraith said cables like the ones being published by WikiLeaks provide some of the best intelligence for policymakers, due to the "keen understanding of the local scene" that American diplomats possess.
Galbraith was fired after clashing with superiors over how the United Nations handled fraud complaints in Afghanistan's elections. He said much of the information in those cables underscores his criticism of the Afghan government and of President Hamid Karzai, whose re-election in 2009 was marred by widespread fraud. Karzai's office downplayed the significance of the revelations, calling them "not new."
U.S. Army Pfc. Bradley Manning is a prime suspect in previous leaks. Before October's release of information on Iraq, Manning was being held in Quantico, Virginia, charged with leaking video of an Iraq airstrike to WikiLeaks as well as removing classified information from military computers.
Galbraith said whoever was responsible for the leaks should be prosecuted -- "but it is the incredible incompetence of a system that would have put some 250,000 sensitive documents on a network where hundreds of thousands of people had access, in a circumstance where you could download these things on a thumb drive."
At the White House, President Barack Obama "was -- as an understatement -- not pleased" with the disclosures, presidential spokesman Robert Gibbs said Monday. And at the Justice Department, Attorney General Eric Holder told reporters said the leak is the subject of "an active, ongoing criminal investigation" in conjunction with the Pentagon.
"It is not saber-rattling," Holder said. "To the extent that we can find anybody who was involved in the breaking of American law, they will be held responsible."
In addition, the White House Office of Management and Budget ordered federal agencies that handle classified information to establish a "security assessment team" to review their handling of procedures to keep classified information from improper disclosure.
And Adm. James Stavridis, NATO's supreme commander, said the leak underscores the need for improvements in cybersecurity -- something that the United States is not alone in lacking.
"The United States is vulnerable, and our European partners are vulnerable, so it's very high on my priority list as the supreme allied commander," he said. "The more attention we pay to it, the less likely we are to have the kind of exposed, explosive kind of distribution of information. We can protect our networks far better if we address it in a systematic way."
But Assange told reporters Sunday in Amman, Jordan, via a video feed from an undisclosed location that his group's releases have caused no one any harm.
"As far as we are aware and as far as anyone has ever alleged in any credible manner whatsoever, no single individual has ever come to harm as a result of anything that we have ever published," he said, according to an unofficial transcript of his remarks posted on the website of the Arab Reporters for Investigative Journalists. "Of course, abusive, titanic organizations, when exposed, grasp at all sorts of ridiculous straws to try and distract the public from the true nature of the abuse."
In addition to being published on Wikileaks website, the documents were acquired in advance by five major newspapers in Europe and the United States. (The New York Times, The Guardian of the UK, El Pais of Spain, Le Monde of France, and Der Spiegel of Germany.) CNN declined a last-minute offer to discuss advance access to some of the documents because of a confidentiality agreement requested by Wikileaks that CNN considered unacceptable.
CNN is committed to carefully and responsibly reporting on the documents already published by Wikileaks and the five newspapers, focusing not only on what the leaked documents say, but also what their publication means for global relations and U. S. diplomacy.
CNN's Kevin Conlon, Yesim Comert, Reza Sayah, Jill Dougherty, Richard Greene, Samson Desta and Antonia Mortensen contributed to this report.
FOLLOW THIS TOPIC