Transgender woman says DMV employee warned her of hell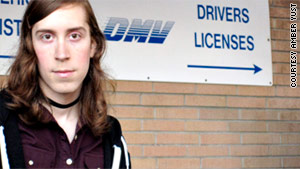 Amber Yust says she got the letter after changing her name and gender on her driver's license.
STORY HIGHLIGHTS
Transgender person says California state employee sent her letter
Letter states homosexuality is an abomination
Department of Motor Vehicles said it will take appropriate disciplinary action
Attorney for Amber Yust seeks restraining order
(CNN) -- A transgender woman is asking for a temporary restraining order against a California Department of Motor Vehicles employee who allegedly wrote her a letter condemning her to hell.
Amber Yust told HLN's Jane Velez-Mitchell on Wednesday night that she got the letter after she went to a San Francisco DMV office in October and successfully changed her name from David to Amber and updated the gender on her license.
According to Yust and her attorney, the DMV employee used her confidential personal information to send the letter.
"I have learned that the reason for the vast majority of gender change operations is the client's homosexual orientation," the letter dated October 22 states. "The homosexual act is an abomination that leads to hell."
The writer also said the state's recognition of the name change is "evil."
"How could anyone trust a DMV employee who is willing to do that?" Yust said of the letter.
The DMV employee was placed on administrative leave with pay pending an investigation, according to the San Francisco Chronicle.
Yust said she also got a pamphlet from a church, which she said contained offensive material directed at her sexual orientation and gender. Yust said the church is mentioned in the DMV employee's letter as "critical information for your salvation."
Yust's attorney, Christopher Dolan, said the employee refused to assist another transgender person in 2009 and kept his job.
The DMV did order staff training and an acting regional administrator apologized to that woman, according to a letter in Dolan's possession.
The director of the California DMV said of the latest case, "This was an individual act by one employee whose actions were outside the course and scope of his duties and are expressly prohibited by department policy.
"All employees of the department are required to sign a statement acknowledging their understanding of the proper and appropriate uses of private, confidential information," Director George Valverde said in a statement. "The department regrets that the alleged event occurred, and is pursuing any and all appropriate disciplinary action."
The request for a restraining order said the employee should stay away from and not mail anything else to Yust.
Dolan also has filed a damage claim with the state, saying Yust suffered embarrassment and emotional distress. It asks for damages in excess of $25,000.
FOLLOW THIS TOPIC