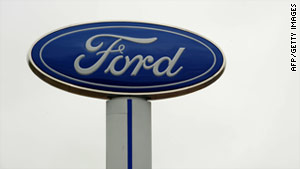 Ford says a certain module is responsible for a fire that started in the cabs of two 2011 F-150 trucks at an assembly plant.
STORY HIGHLIGHTS
Ford recalls 19,600 trucks, SUVs after two trucks caught fire at assembly plant
Module made by supplier is to blame, Ford says
Chrysler issues three recalls covering 145,000 trucks, crossover wagons
One recall deals with steering concerns for certain Dodge Ram 4500 and 5500 trucks
(CNN) -- Ford Motor Co. is recalling 19,600 2011 model year trucks and crossover SUVs over concerns that an electrical short could cause a fire, the manufacturer said Thursday.
Chrysler Group LLC also is recalling nearly 145,000 trucks and crossover wagons in three separate campaigns for steering, stalling and airbag concerns, according to letters posted this week on the website of the National Highway Traffic Safety Administration.
Ford decided to recall certain 2011 model year F-150 trucks, Super Duty trucks (F-250 through F-550) and its Edge and Lincoln MKX vehicles after fires started in the cabs of two F-150 trucks at a Michigan assembly plant in November and December, the company said in a letter Monday to the NHTSA.
Investigators determined that a body control module manufactured by Lear Corp. was the source, and that in at least one case, a circuit board had shorted, resulting in overheating.
The supplier later determined that a new hire failed to properly clean a soldering machine over six days in October, raising the possibility that modules manufactured then could have contaminants that could cause internal shorts, Ford said. The shorts could cause overheating, which could lead to an unattended vehicle fire, according to Ford.
The recalled vehicles could have the modules in question. Ford said it isn't aware of any reports of related fires in vehicles bought by consumers.
"The vehicles will be updated to eliminate a small risk of an unattended vehicle fire for the 2011 Ford Edge, Super Duty, F-150 and Lincoln MKX," Ford spokesman Wes Sherwood said. "... We are notifying affected owners and asking them to bring their vehicles to their local dealers to determine if the module was built during the affected time period and whether replacement is necessary."
About 14,730 of the recalled vehicles are in the United States and its territories, Ford said in its letter to the safety administration. Most of the rest are in Canada, Sherwood said.
Ford said it will send recall letters to vehicle owners the week of January 10. Consumers can contact local Ford or Lincoln/Mercury dealers or Ford's toll-free service at 866-436-7332 to determine whether their particular vehicle falls under the recall.
Chrysler's recalls include one for 22,274 2008-2011 Dodge Ram 4500 and 5500 trucks, with the manufacturer saying a ball stud at the end of a tie rod could fracture and lead to a loss of steering. The recall was announced after 86 consumer reports of tie rod replacements due to such a fracture.
Also recalled are 65,180 2009 Dodge Journey crossover wagons manufactured between November 1, 2007, and September 7, 2008, because side airbags may not deploy in a crash.
Chrysler said side-impact pressure sensor circuits may be at risk of fatigue and breaking -- a condition noticed after consumers reported they were seeing their airbag warning lamps light up.
A third Chrysler recall involves 56,611 2011 Dodge Ram 1500 trucks because of a rear axle bearing that could seize and cause the vehicle to stall, according to Chrysler. The manufacturer said it received 20 reports alleging axle-bearing noise or failure, and that most of the failures happened within 500 miles of driving.
No reports of crashes or injuries have been attributed to any of the issues, Chrysler said.
Chrysler's recalls are expected to begin in February, according to NHTSA. Owners of vehicles involved in the recalls can call Chrysler at 800-853-1403 for more information.
A call to Chrysler seeking comment for this story Thursday wasn't immediately returned.
FOLLOW THIS TOPIC