STORY HIGHLIGHTS
NEW: Man found dead in tent behind gasoline station in South Carolina
At least six deaths across the nation have been attributed to the cold weather
Blizzard warning in effect for parts of South Dakota, weather service says
South will have a brief warm-up before next cold blast, CNN's Rob Marciano says
(CNN) -- A days-long cold spell eased Wednesday, but for much of the nation, even lower temperatures are on the way.
The arctic blast that began over the weekend has been blamed for at least six deaths across the nation.
Wednesday and Thursday will offer a brief respite to some areas in the South, according to CNN meteorologist Rob Marciano.
"There'll be a brief warm-up," Marciano said. "This is a one-two punch basically, and with the second punch, temperatures are about 5 degrees colder. But the brunt of the cold air will ride down the Mississippi River."
While midday temperatures in parts of north and central Florida rose to around 48 degrees, the overnight lows were of concern, Marciano said.
"It obviously warms up during the day, but to have this many nights [of cold weather] in a row, they haven't seen this in 20 years," Marciano said.
Share your photos, video of winter weather near you
"Calm winds and a very cold and dry air mass will combine to allow rapid cooling after sunset" in northern Florida, the National Weather Service said Wednesday.

Video: Cold-stricken Florida shivers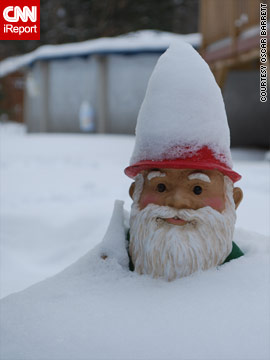 Gallery: Cold snap puts U.S. in deep freeze
Precipitation continued Wednesday across a swath of the nation's midsection with parts of Missouri, Nebraska, Iowa, Minnesota and Illinois under winter storm warnings, the weather service said.
A blizzard warning was in effect for parts of South Dakota until Thursday morning, the weather service said.
Parts of Arkansas, Mississippi and Louisiana were under a hard freeze warning Wednesday morning, the weather service said.
Florida is under a state of emergency because of the threat to the state's lucrative crop industry. Gov. Charlie Crist's order Tuesday aims to help farmers across the state salvage what they can by lifting weight limits on trucks and allowing them to get already harvested crops out of the cold.
"The big story across Florida is the duration of this cold air," Marciano said.
See strawberry crops facing the winter weather
Meanwhile Wednesday, workers whose jobs pitted them against the cold temperatures looked for ways to stay warm.
Your home: Cover pipes with insulation or newspapers and plastic and allow faucets to drip a little during cold weather to avoid freezing.

If your pipes freeze, remove layers and wrap pipes in rags. Open faucets and pour hot water on them in the areas most exposed to cold.

Use care with space heaters -- make sure they are not near anything that can catch fire.

Frostbite and Hypothermia: Depending on the windchilll, at 10 degrees it can take only 30 minutes to get frostbite. As the windchill rises and the temperature decreases, it can take only up to five minutes to develop frostbite.

Look for white or pale appearances in extremeties, or loss of feeling in fingers, toes, ear lobes, and the tip of the nose to identify frostbite.

Symptoms of hypothermia are disorientation, uncontrollable shivering, slurred speech, drowsiness, and exhaustion.

Sources: FEMA, CDC
In Baton Rouge, Louisiana, U.S. Postal Service worker Jarvis Brookshire said putting on layers of clothes was key to handling the cold weather.
"What we experience as mail carriers is that you've got to wear thermal long pants because your uniform is so thin," Brookshire said. "And if you don't have any kind of gloves, you'll find it difficult to handle the mail," he said.
In Chicago, a 30-year-old woman found face down but alive in the snow Tuesday night outside her home was charged with child endangerment, according to CNN affiliate CLTV.
The woman's 2-year-old son was found shoeless wearing "light outer garments," police told CLTV. The Chicago area was expected up to 9 inches of snow Wednesday evening through late Thursday, CLTV said.
Deaths attributed to the cold included a homeless man found frozen to death in Kansas City, Missouri, CNN affiliate KCTV reported. At least four cold-related deaths occurred in Tennessee, including an 81-year-old Alzheimer's patient who apparently wandered outside during the night, police said.
In Lauderdale County, Mississippi, coroner Clayton Cobler confirmed that a 68-year-old man was found dead of hypothermia Tuesday in his home. The man lived alone, and heaters in his home were found to be not working, Cobler said.
In Cherokee County, South Carolina, officials said a man was found Wednesday afternoon dead in a tent behind a BP gas station, according to CNN affiliate WYFF. The coroner said they believed the man had died of hypothermia a couple of days ago.
The frigid air reaches all the way south, jeopardizing berry and citrus crops in Louisiana and Florida.
Watch how berry farmers are trying to save their plants
In Florida, growers are spraying water on their trees to form a protective coating of ice, said Andrew Meadows, spokesman for Florida Citrus Mutual, a trade group representing about 8,000 growers. As long as temperatures don't drop below 28 degrees for more than four hours, damage should be minimal, he said.

CNN's Jim Kavanagh contributed to this report.