At least 9 die in Somalia clashes, group says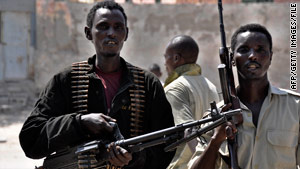 Somali police stand guard in Mogadishu last week.
STORY HIGHLIGHTS
NEW: Fourteen others wounded in heavy shelling in Mogadishu, human rights group says

NEW: Residents flee Somali capital amid reports of renewed fighting with rebels

Commander of Islamist militant group al-Shabaab reportedly killed

Al-Shabaab is a militant group linked to al Qaeda

(CNN) -- At least nine people have been killed and 14 others wounded in heavy shelling in Somalia's capital, Mogadishu, according to a human rights group.
The clashes began late Sunday and continued into Monday morning, said the Elman Peace and Human Rights Organization, a group based in the city.
"These fatalities are from the overnight shelling, and we are still monitoring and counting Monday's casualties," said Ali Yasin Gedi, the group's vice chairman. "The shelling was terrible."
Meanwhile, residents are fleeing parts of Mogadishu as government forces come in because of reports that Somalia's government plans to launch a war with Islamist rebels currently in control of the capital.
"We are on the move again, leaving our houses, because I don't want myself and my children [to] die," said Fowsiya Ahmed, who lives in southwest Mogadishu's Gubta neighborhood.
The government forces have recently been trained in neighboring Djibouti, Kenya, Ethiopia and Uganda. They are believed to number in the thousands.
Meanwhile, a top commander in Somalia's hard-line Islamist militant group al-Shabaab was killed by his own guards, according to Somalia's state radio.
Amar Ibrahim, a Jordanian national, was killed in Mogadishu's Yaqshid neighborhood, residents told Radio Mogadishu, the state radio of Somalia's transitional government.
Ibrahim was reported to be a ruthless commander, and his guards killed him in apparent vengeance, according to the report Monday.
There was no immediate reaction from al-Shabaab, a group linked to al Qaeda.
Residents told Radio Mogadishu that after the reported incident heavily armed al-Shabaab fighters cordoned off the area and told people to stay inside and not come near the scene.
Ibrahim replaced former al-Shabaab commander Salah Ali Nabhan, who died in a U.S. raid in southern Somalia in 2009. Nabhan, also an al Qaeda operative, was wanted in connection with the bombing of a luxury hotel in Kenya and also for a failed missile attack on an Israeli jet.
Journalist Mohamed Amiin Adow contributed to this report.