41 dead in Morocco minaret collapse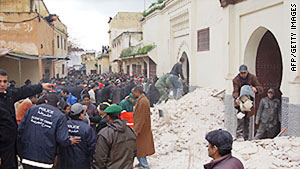 People sift through the rubble of the minaret collapse in Meknes, Morocco, on Friday.
STORY HIGHLIGHTS
Minaret in Meknes, Morocco, was 400 years old
Incident came as worshipers were gathering in northern town
At least 75 injured, rescuers still searching rubble for people
King orders that mosque be rebuilt
(CNN) -- At least 41 people died when a centuries-old minaret collapsed at a mosque in Morocco on Friday, the country's official news agency reported on Saturday.
The incident took place during Friday prayers at the Bab al-Baradeen mosque in Meknes, a town in northern Morocco located 140 km (87 miles) southeast of Rabat.
At least 75 people have been injured, 17 of them hospitalized. The mosque was packed with worshippers when the accident occurred. Crews continue to look for people in the rubble.
Many people in the country blame the accident on heavy rains, Morocco TV reported. It broadcast video showing dozens of people inside the mosque carrying survivors out of the damaged structure to waiting ambulances.
King Mohammed VI has ordered that the 400-year-old mosque be rebuilt as soon as possible and that its original architecture be preserved, it said.