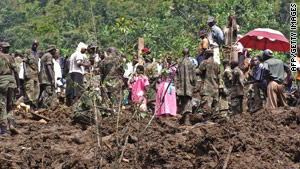 Fresh earth is exposed after massive landslides Monday night in Uganda.
STORY HIGHLIGHTS
At least 106 bodies recovered Tuesday after massive landslides Monday in Uganda
Landslides wiped out several villages around Mount Elgon on the Uganda-Kenya border
Army joined search for estimated 245 people missing in Uganda's Bududa district
Landslides brought on by unusually heavy rain in third week of annual rainy season
Kampala, Uganda (CNN) -- At least 106 bodies had been recovered Tuesday after massive landslides wiped out several villages around Mount Elgon on the Uganda-Kenya border, an army spokesman and local aid officials said.
The army has joined the search for an estimated 245 people who are still missing and feared dead in eastern Uganda's Bududa district after Monday night's landslides, which were brought on by unusually heavy rain in the third week of the annual rainy season, according to State Minister for Disaster Preparedness Musa Ecweru.
Dozens of bodies were recovered from a hospital and church where people had run to seek shelter, officials said. The hospital and church were buried when torrents of mud swept down on them.
The final death toll is expected to be much higher, Ecweru said, after crews are able to navigate the vast region affected by the disaster and find more victims. And more rain is forecast for the area.
In the meantime, the bodies recovered will be buried in mass graves beginning Wednesday, he said.
Spokeswoman Catherine Ntabadde of the Ugandan Red Cross Society said Tuesday that only two elderly women survived the disaster in one area.
"The villages of Nametsi, Namakansa and Kubewo in Nametsi parish have been wiped out" and six people died in the village of Bamuyaka in neighboring Bubita Sub County, Ntabadde added.
The URCS was providing water purification tablets to survivors to avoid outbreaks of waterborne diseases. Distribution of "nonfood items like tarpaulins, blankets, jerry cans, soap, saucepans, cups and plates is to commence late today to the now-homeless survivors," she said.
There are other reports of landslides hitting several communities in the neighboring districts of Sironko and Bukwa -- also located on the slopes and at the foot of Mount Elgon -- where at least 1,000 people have been affected and their homes destroyed, but the extent of the damage there is not yet known, Ntabadde said.
Flooding has destroyed several roads and many bridges have been washed away in at least seven districts less than 31 miles (50 kilometers) from the mountain. They include the Butaleja, Budaka, Palisa, Tororo, Mbale and Manafwa districts.
In Butaleja, more than 6,000 households in four subcounties were affected by the flooding, and the area's only two primary schools were washed away, Ntabadde said.
Mount Elgon, the second-highest mountain in Uganda, is an extinct volcano and has five distinct peaks ranging from 13,000 to 14,000 feet high, according to a Ugandan tourist Web site. It is located about 217 miles (350 kilometers) east of the capital, Kampala.
The landslides came when rivers on the mountain overflowed with heavy rains, but deforestation, farming and other human activity on its slopes also contributed to the problem.