STORY HIGHLIGHTS
Ntsiki Biyela was South Africa's first black female winemaker
Last year she was named South Africa's Woman Winemaker of the Year
"There was a lot of pressure being first," she said, "but it's a good pressure"
Stellenbosch, South Africa (CNN) -- In the South African wine industry Ntsiki Biyela is something of a rarity. The country's first black female winemaker when she started out six years ago, Biyela has established herself as an award-winning vintner.
Biyela grew up in KwaZulu Natal, 800 miles from the vineyards of Stellenbosch where she now practices her craft.
She had never even tasted wine before she enrolled at the University of Stellenbosch on a scholarship, but it was there that Biyela earned a degree in oenology -- the science and study of wine.
Lessons were taught in the unfamiliar language of Afrikaans and Biyela's classmates were white, but she stuck with her studies. "It was challenging, it really was," Biyela told CNN. "On graduation day I felt like I had climbed Table Mountain. It was really moving."
After graduating Biyela took a job with boutique wine producer Stellekaya, in the heart of the Cape Winelands. It wasn't long before Biyela earned her first award, for her Cape Cross wine.
"My highlight was the first time I gave my grandmother a bottle of wine I had made," she told CNN.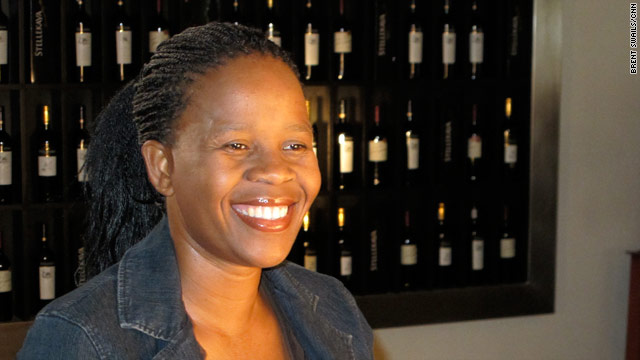 Gallery: Ntsiki Biyela
"It was my first wine. It had won gold from Michelangelo and I brought it home and told her to taste it.
"You could see in her face she thought, 'this is terrible,' but you could also see that pride that she was drinking the wine her granddaughter had made."
More awards followed and last year Biyela was named South Africa's Woman Winemaker of the Year. It's a sign of just how far the industry has come since the end of apartheid.
"The wine industry has been known to be white and when you have to come in you initially feel like an outsider," said Biyela. "But you meet people, you become involved and then you become part of it."
But in a country that exports more than 400 million liters of wine per year, there are still only around 15 qualified black winemakers.
"We need to create awareness that there is a wine industry that people can be involved in, because black people and wine ... we have our own drinks," said Biyela.
"Wine was something away from our roots ... people have to think of wine as something that is just part of a meal."
But for a master winemaker like Biyela, wine is much more than that.
"The Cabernet blend has that rich, complex smell, like you are walking in the forest after it's just rained," she explained. "This is the Merlot blend. It's sweet, minty, like you're just walking through the bushveld [South African woodlands]."
It's clear that the pressures of being the South Africa's first black female winemaker have been replaced by an obsession with her craft.
"I was the first but not anymore. Now I'm just a winemaker," Biyela told CNN.
"There was a lot of pressure being first. You feel like you aren't just representing yourself but a whole world of people who want to follow you.
"It's pressure, but a good pressure. It keeps you pushing for what's next."
Mark Tutton contributed to this report