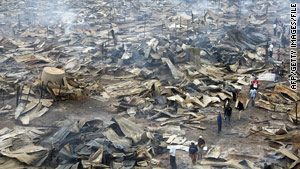 A clothes market smolders in Nairobi, Kenya, after being set afire in December 2007 in post-election violence.
STORY HIGHLIGHTS
NEW: Ex-U.N. chief Kofi Annan says, "This is an important day for justice in Kenya"

Prosecutor gets International Criminal Court's OK to probe Kenya's post-election violence

More than 1,000 died, hundreds of thousands displaced in clashes after 2007 vote

Prosecutor says, "There will be no impunity for those most responsible for crimes"

Nairobi, Kenya (CNN) -- Pretrial judges at the International Criminal Court on Wednesday authorized a prosecutor to investigate Kenya's bloody post-election violence, a move that could lead to key leaders facing charges at The Hague.
In a 2-1 ruling, the ICC judges said the available information "provides a reasonable basis to believe that crimes against humanity have been committed on Kenyan territory."
In his dissenting opinion, Judge Hans-Peter Kaul held that the crimes committed do not qualify as crimes against humanity.
Kenya's disputed 2007 election between President Mwai Kibaki and opposition leader Raila Odinga led to clashes, leaving more than 1,000 dead and displacing hundreds of thousands.
Kibaki was declared the winner, although Odinga and the opposition, along with many independent observers, said the vote was rigged.
Former U.N. Secretary-General Kofi Annan, who negotiated the deal leading to a coalition government led by Kibaki and Odinga, said Wednesday he approved of the ICC's decision.
"This is an important day for justice in Kenya," Annan said in a statement. "Justice for the victims suddenly looks brighter."
Luis Moreno-Ocampo, the court prosecutor, said the decision "means that there will be no impunity for those most responsible for crimes committed during the post-election violence."
The court's decision also was greeted by the international watchdog organizaton Human Rights Watch. "The decision today can help Kenya turn the corner," said Elizabeth Evenson, counsel in the International Justice Program at Human Rights Watch.
"A full investigation into possible crimes against humanity can help restore confidence among Kenya's people that elections don't have to turn into bloodbaths."
Investigating and prosecuting leaders responsible for the post-election violence had been a key part of the deal that set up the coalition government of all political parties.
However, the coalition government missed a September deadline for setting up a tribunal to try suspects involved in orchestrating the post-election chaos.
After the government missed the deadline, the ICC said it would step in. Moreno-Ocampo visited Kenya in November and asked judges at the ICC to approve investigations into the violence.
The issue of prosecuting post-election culprits has sparked public wrangling among the coalition government. Analysts said the administration has been reluctant to pursue prosecutions because the chief suspects are senior government officials.
Annan repeatedly had warned the ICC would intervene if a tribunal to try the suspects was not established.
Annan handed a list of suspects to the ICC in July, a sign he was losing patience with the delay in the formation of a tribunal.
Kenya's next election is scheduled for late 2012, and some analysts have said they worry the ICC will not be able to move fast enough to bring perpetrators to trial before then.
Human Rights Watch said witness protection will be a challenge in the investigation. "Kenya's existing witness protection system is widely acknowledged to be inadequate and is currently under reform," it said.
Evenson said, "Keeping witnesses safe is a keystone of successful prosecutions, and the ICC should make it a priority to safeguard witnesses and victims in its investigations."
The ICC sits at The Hague, the Netherlands.