Army seizes prime minister in Guinea-Bissau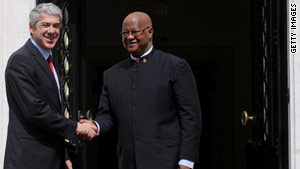 Guinea-Bissau Prime Minister Carlos Gomes Jr., right, is welcomed March 17 by his Portuguese counterpart in Lisbon.
STORY HIGHLIGHTS
Power struggle in nation's military apparently spurs incident
Deputy army chief tells crowd to disperse or he will kill prime minister
Prime minister and Cabinet members freed after three hours
(CNN) -- Army officers in Guinea-Bissau, the small West African nation, briefly seized the prime minister and arrested the nation's army chief on Thursday, and media reports quote another army officer as saying he is in control of the country.
The incident apparently stems from a power struggle in the nation's military.
Maria Adiatu Nandigna, government spokeswoman, and Iancuba Djola NDjai, the president's military and security adviser, confirmed the latest developments in a country that has seen much political and military turbulence over the years.
The officers seized Prime Minister Carlos Gomes Jr. and a few Cabinet members for about three hours, Nandigna said. They were freed and reinstated as hundreds of people demanded their release after hearing the news of the arrests, she said.
Army chief Zamora Induta was also placed under arrest but has not been freed, NDjai said. He remains at the army headquarters in the capital city of Bissau, he said.
The military officers say they have demands about Induta and the prime minister, but it isn't known what they are, NDjai said.
NDjai said Guinea-Bissau President Malam Bacai Sanha was meeting with his advisers to discuss the situation. NDjai, who said the capital is calm, noted the president had said "the situation is under control."
The officers who seized the officials are followers of Rear Admiral Bubo Na Tchuto, who had been accused of staging a coup a couple of years ago.
Tchuto had been in exile in Gambia and returned to Guinea-Bissau, where he was faced with threats of arrest. That's when he decided to take refuge at the United Nations' office in Bissau for the last three months.
The government and the U.N. office had been negotiating to release Tchuto, who left the U.N. premises on Thursday.
Media reports say Antonio Indjai, Induta's deputy, has taken over the country's military command. They quoted him as saying he is controlling the city and the country, and telling the media that people demonstrating in support of Gomes needed to disperse.
"People should not cause me to lose my patience. As a citizen I don't have anything against him, but if people don't disperse, I will kill him. Nothing will happen to me because he himself killed many people," Indjai said.