World Cup gives South Africa's wine a boost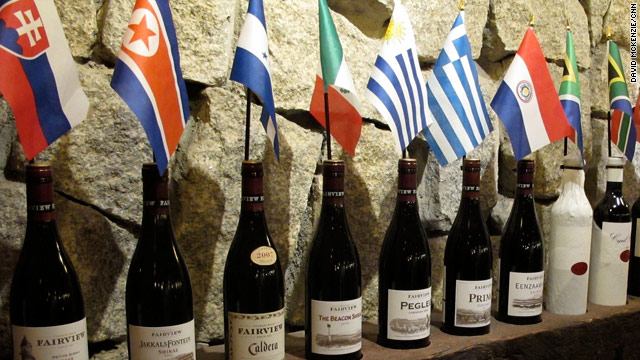 STORY HIGHLIGHTS
Soccer fever is running as high in South Africa's wine country

Spike in sales to countries competing in the tournament

Wine-maker: Focus of the entire planet for this period is fantastic for us

Paarl, South Africa -- "I've got the best commute in the world," Fairview Estate's chief wine maker Anthony De Jager says with a smile as he watches his amiable pack of dogs run excitedly through the vineyards.
The sound of dried leaves crunching underfoot follows him as he wanders down the straight rows of vines. It is winter now and harvesting has come to a halt, giving the vines a rest and following a cycle of cultivation that has endured in this valley near the Western Cape town of Paarl for more than 300 years.
Not much has changed in the view of the stately mountains and picturesque vineyards, but football fever is running as high here as in the rest of the country and De Jager has seen a spike in wine sales to countries whose teams are playing in the World Cup.
"I think this whole World Cup and the whole focus of the entire planet for this period is fantastic for us and for our wine industry," De Jager says as he looks out over the valley. "We really need it and we need to be able to show the world, not only South Africa, not our people and not only sport, but this side of it as well."

Video: South Africa's wine bonanza

Video: World Cup job boom
There is no doubt that South African wines are benefiting from the World Cup.
In previous decades, South Africa's isolation during the apartheid years held back both innovation and international expansion in the wine industry, but since the dawn of democracy the country's wines have become far more palatable and are increasing in popularity around the globe.
South African winemakers now say that they can compete with the rest of the world but at home, the situation has been more complex.
For many years, wine was regarded as a drink for privileged whites. As the newest winemaker at Fairview, Patrick Sidyiyo explained: "My father worked on a wine farm, but he only drank beer."
As with much else in South Africa, that is changing fast. "In South Africa we are getting a lot of middle class black people, and I think people are getting more sophisticated now. It has changed. They realize that wine is not just made for white people, it is for everyone," Sidyiyo said.
Traditionally, South African wines were regarded as providing good value for money but not really having the edge to make them world beaters. Today that is no longer the case.
"We have a huge diversity in our wine areas," De Jager said. "Each region has very different types. It makes them dramatic, adventurous."
Sidyiyo shares this sense of pride in his country's burgeoning industry: "I think I am an ambassador," he says, "especially when it comes to wine."
FOLLOW THIS TOPIC