Mining company: No survivors in Cameroon plane crash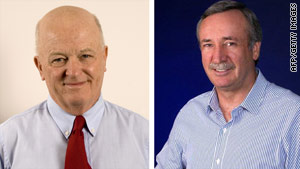 Geoff Wedlock (left), chairman of Sundance Resources, and mining magnate Ken Talbot, a director at Sundance.
STORY HIGHLIGHTS
NEW: Wreckage of plane carrying Australian mining executives found, no survivors
Mining magnate Ken Talbot, one of Australia's richest men, aboard
Plane took off from Cameroon en route to the Republic of Congo
(CNN) -- There were no survivors with wreckage found Monday in remote African terrain of a missing aircraft carrying 11 people, an Australian mining company said.
Sundance Resources Ltd., based in Perth, Australia, said its chairman, managing director and CEO, company secretary and three directors perished. Also on board were two British nationals, two French nationals and one U.S. citizen.
Mining magnate Ken Talbot, a director of Sundance and one of Australia's richest men, was among the victims, the company said.
The aircraft had taken off from Yaounde, Cameroon, on Saturday bound for Yangadou in Congo-Brazzaville. Its wreckage was located in remote jungle on Monday, the statement said.
The group was visiting Sundance's iron ore project in Cameroon and Congo, the company said.
"It was roughly a one hour flight, and the last communication from them was 30 minutes into the flight," said Brian Thornton, a spokesman for Talbot Group, which is a major Sundance shareholder. "It was standard communication -- they did not report anything wrong."
Sundance did not name all the passengers on the flight. It said the missing executives were Chairman Geoff Wedlock; Managing Director Don Lewis; company secretary John Carr-Gregg; and nonexecutive directors Talbot, John Jones and Craig Oliver.
Australian Prime Minister Kevin Rudd on Monday expressed concern as the search went on, according to a statement from his office.
"All of our diplomatic and consular resources are being dedicated to this," Rudd said. "We will leave literally no stone unturned in our efforts to try and help what is a concerning set of developments for these families."

FOLLOW THIS TOPIC