3 U.N. peacekeepers killed in Darfur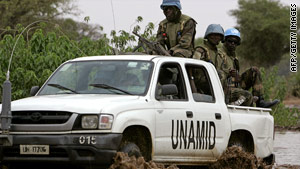 A convoy of UNAMID peacekeepers on patrol in the region in June last year.
STORY HIGHLIGHTS
3 U.N. peacekeepers killed in Sudanese region of Darfur
UNAMID force was providing security to engineers when 20 attackers opened fire
3 attackers also killed
Attack lasted nearly an hour
(CNN) -- Three U.N. peacekeepers were killed and another was seriously wounded in a shootout Monday with unknown attackers in the West Darfur region of Sudan, the African Union-United Nations Mission in Darfur said.
The soldiers from a UNAMID Protection Force Battalion were providing security to civilian engineers working at a site near the village of Nertiti, in the Jebel Marra area, around 11:30 a.m. (4:30 a.m. ET) when more than 20 attackers in camouflage battle dress began firing on them, UNAMID said in a news release.
That touched off a firefight that lasted nearly an hour, it said. Three of the attackers also were killed before the remaining ones fled, some in a stolen car, it said.
The wounded peacekeeper was taken to a hospital in Nyala, in South Darfur, where he was in critical condition, the news release said.
The last attack on UNAMID peacekeepers occurred last month, when two Egyptian troops were killed and three were wounded in an ambush in South Darfur.
With Monday's attack, 27 UNAMID peacekeepers have been killed -- 24 military personnel and three police officers.
UNAMID patrols reported over the weekend that an estimated 40 people were killed and 10 were wounded in fighting Saturday between the Aballa and Baggara tribes in the areas of Urdi and Kenkoule in West Darfur.
A fact-finding patrol was sent to the area Sunday.
The 26,000-member UNAMID force, a joint operation of the United Nations and the African Union, took over peacekeeping operations in the area at the end of 2007.
Violence in Darfur erupted in 2003 after rebels began an uprising against the Sudanese government. To counter the rebels, Sudanese authorities armed and cooperated with Arab militias, who went from village to village in Darfur, killing, torturing and raping residents, according to the United Nations, Western governments and human rights organizations. The militias targeted civilian members of tribes from which the rebels drew strength.
The United Nations estimates that 300,000 people have been killed in the conflict in Darfur, and 2.5 million have been forced from their homes. Sudan denies that the death toll is that high.
FOLLOW THIS TOPIC