Somali radio station defies Islamist ban on music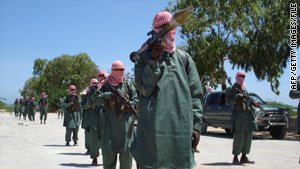 Islamist militants who control parts of Somalia's capital city forbid the playing of music, live or on radio.
STORY HIGHLIGHTS
Mogadishu's largest radio station defies Islamist ban on music
Radio Shabelle also defying order to boycott celebrations of Somali national day
Militants call music 'un-Islamic'
(CNN) -- Somalis in Mogadishu could once again hear songs coming from their radios Thursday, as one of the city's biggest independent stations resumed playing music.
Radio Shabelle has defied a ban on music imposed by hard-line Islamist groups which control much of the Somali capital.
Shabelle's broadcast director, Osman Abdullahi Gure, said the move was a direct response to a recent dictate from one Islamist group. It ordered Somalis and the country's radio stations to boycott celebrations of Somali national day July 1.
Gure told CNN that the order "crossed all lines" with its demand to "ignore Somali identity." He also said that, since Radio Shabelle would ignore the order to boycott Somali national day celebrations, it would also ignore a previous ban on playing music.
On April 13, militants forbade the playing of music on radio stations, calling it "un-Islamic."
All the other stations in Mogadishu are still complying with the ban.
Somalia has not had a stable government since 1991. Islamic militant groups are waging a war against the government in an effort to implement a stricter form of Islamic law, or sharia.
Journalist Mohamed Amiin Adow contributed to this report.
FOLLOW THIS TOPIC