STORY HIGHLIGHTS
In the 1980s, Rasamimanana was dispatched to spy on primatologist, Alison Jolly
Instead she encountered lemurs for the first time and fell in love with them
She has since spent her time campaigning to save the country's endangered lemur species
Every week CNN's African Voices highlights Africa's most engaging personalities, exploring the lives and passions of people who rarely open themselves up to the camera. This week the show profiles scientist Hanta Rasamimanana, known as Madagascar's 'Lemur Lady' for her campaign to save the country's endangered lemur and their natural habitat.

Watch the show on Saturdays at 1130 and 1830 GMT and Sundays at 1700 GMT.

Berenti, Southern Madagascar (CNN) -- Thirty years ago, a young Hanta Rasamimanana was dispatched by the Madagascan government to spy on a delegation of American scientists in the country's Berenti reserve.
The scientist was fresh out of her university course studying animal husbandry in the Soviet Union and working at the national zoo in Madagascar when she was sent to join the group.
"I said, for what?" she recalled. "Who are they?" She was told that she'll be watching leading primatologist Alison Jolly and her group.
"They said... you don't have to teach her anything. You just have to follow ... see what they are doing, and report to us."
However she soon forgot about her secret assignment once she encountered lemurs, which the Americans were studying. For Rasamimanana, it was love at first sight, she told CNN.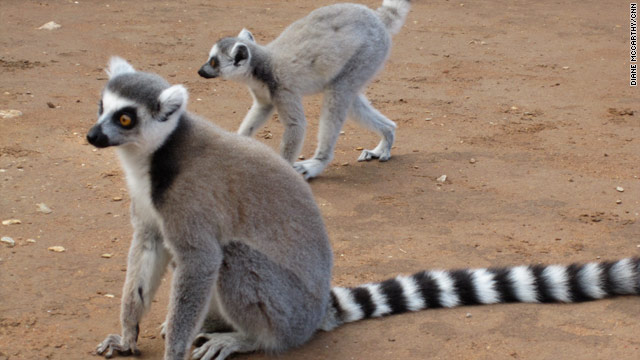 Gallery: Madagascar's lemurs
"When I looked at the behavior, I was really falling in love with them," she said.
"They are really special. They have this kind of social behavior between them. You can see everything -- they're playing, they're fighting, and I really want to study when I look at them."
The lemur is a furry primate unique to Madagascar and the nearby Comoros Islands, they migrated here to this island around 60 million years ago.
Five percent of all the world's plant and animal species can be found on Madagascar, 80 percent of them are indigenous.
Since that first encounter, Rasamimanana, known as Madagascar's 'Lemur Lady' has spent much of her adult life campaigning to save the country's endangered lemur and their natural habitat.

Video: Madagascar's 'Lemur Lady'

Video: From the forest to the class room
Today they inhabit just a few remaining patches of indigenous forest. Their habitat is threatened by deforestation, mostly in the form of slash-and-burn agriculture-mining and the steady spread of human habitation.
Seventeen lemur species have become extinct in recent decades, a fate that threatens the remaining species, which number around one hundred. One of the extinct species was as big as a male ape, Rasamimanana said.
However, for all of her tireless efforts, it is still an uphill battle raising awareness for the protection of the lemurs.
Rasamimanana focuses her work on lemurs in the nature reserve in Berenti, in southern Madagascar. Berenti is a small island of natural vegetation. Much of the area around it has been completely deforested, planted with sisal, a cash crop that earns desperately needed hard currency.
Two-thirds of the population of around 21 million earns less than a dollar a day in the impoverished island.
"Why are we very poor if we are so rich?," Rasamimanana ponders. "We are poor because of the system ... not only the Malagasy system, but the global system is to be blamed for it," she told CNN.
Still, there is no stopping the inexhaustible lemur lady. She believes it is important to count one's blessings and see richness in Madagascar.
"As a teacher, what I can do is to make the children and students know that we are very rich in natural resources because they don't know that," she said. "It's my duty to make them know that."
Agnes Teh contributed to this report
FOLLOW THIS TOPIC