French hostage executed, Sarkozy confirms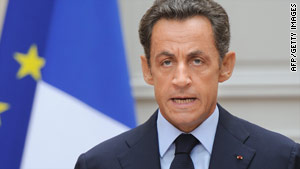 French President Nicolas Sarkozy breaks the news of Michel Germaneau's execution.
STORY HIGHLIGHTS
NEW: The group that killed him says it was revenge for a raid on militants last week
Michel Germaneau, 78, was kidnapped April 19 in Niger
French President Nicolas Sarkozy vows that the crime will not go unpunished
The terrorist group that kidnapped Germaneau said in a video Sunday they had killed him
Paris, France (CNN) -- French hostage Michel Germaneau has been executed by his al Qaeda-linked captors in the north African country of Mauritania, French President Nicolas Sarkozy said Monday.
Sarkozy vowed that the "crime committed against Michel Germaneau will not be left unpunished."
"We are dealing with people who have no respect for human life," he said in a televised statement, condemning the "barbaric act" and warning French people not to travel in the region.
A man claiming to be the chief of the terrorist group that captured Germaneau claimed in a video Sunday that the 78-year-old had been executed.
The video aired Sunday on the TV network Al-Jazeera.
Germaneau, a director, was abducted in Niger on April 19. The video shows Germaneau's photo along with images of the French flag and al Qaeda in the Islamic Maghreb's black-and-white flag.
A man's voice -- identified by text on the screen as AQIM's chief, Abu Musab Abdul Wadud -- can be heard saying, in Arabic, "We announce that we've executed the French hostage called Michel Germaneau on Saturday, July 24, 2010, to avenge the killing of our six brothers in the cowardly French raid."
The man appears to be referring to an attack on the group last week that left six suspected al Qaeda militants dead.
Four other members of AQIM escaped the operation led by the Mauritanian army near the border with Mali, Interior Minister Mohammed Ould Boilil said.
The attack was prompted by intelligence that indicated the group was targeting a military base in Baskno.
The man in the video criticizes Sarkozy for the operation, saying he "not only failed to free his fellow citizen in this failed operation, but without all doubts, (Sarkozy) opened one of the gates of hell for himself, his people and his country."
In the past, Al-Jazeera has aired similar videos from the group before they later surfaced on militant websites.
CNN's Saskya Vandoorne contributed to this report.
FOLLOW THIS TOPIC