Somali government claims to contain Islamist rebels' offensive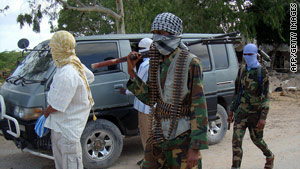 Islamist rebels carry weapons earlier this week near a camp in northern Mogadishu, Somalia.
STORY HIGHLIGHTS
About 70 civilians die in fighting, a government official says
Sporadic gunfire still heard in capital, he says
Government force prepared for more fighting
(CNN) -- The Somali government claimed on Thursday that it has contained an offensive by Islamic extremist rebels that had been launched in the nation's capital earlier in the week.
"Since yesterday afternoon, the fighting has slowed," Abdirahman Omar Osman, Somalia's minister of information, told CNN from Mogadishu on Thursday. "You can hear sporadic gunfire in the city still today, as compared to the three days before, it is much less."
The minister added that "fighting has also resulted in the regrettable deaths of an estimated 70 innocent civilians and the wounding of around 200 others." His figures came from hospital sources and civilians, Osman said.
He said government forces had killed 25 Al Shabaab fighters since the Islamist rebel movement launched its attacks on Monday, with another 70 being injured.
As fighting in the seaside capital subsided temporarily, the minister said government forces were prepared for further battles that may be ahead.
"Though there might be a break at the moment, the seventeenth day of Ramadan is often considered the best day to fight, so things may escalate in two days time, as today is the fifteenth day of Ramadan," Osman said.
The seventeenth day of Ramadan stems from a historical day in 624 A.D., denoting the Battle of Badr, Osman said, when the prophet Muhammed won a key battle.
"Al Shabaab thinks that this is the best day for them to win against us," he said. "We are here. We are committed. We are determined to win against Shabaab."
Osman said that without the necessary forces, Al Shabaab could cause harm to more civilians in Mogadishu and asked residents to "remain vigilant."
Somalia has not had an operational government since 1991, when then-President Mohamed Siad Barre's military junta was overthrown.
Somalia was ranked in 2009 and 2010 as the worst failed state in the world, according to Foreign Policy magazine's annual index. Chad and Sudan, respectively, round out the top three failed states.
FOLLOW THIS TOPIC