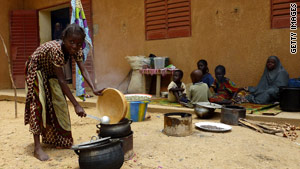 A group of flood victims gather at a school in Naimey, Niger.
STORY HIGHLIGHTS
NEW: The World Food Program in Niger is curtailing aid plans because of a funding shortfall
U.N. agency is calling for shelter supplies to hard-hit areas of Niger
Flooding is aggravating the hunger crisis in the country
(CNN) -- Heavy rains in Niger have displaced nearly 200,000 in recent weeks, the United Nations says, calling on donors and aid agencies to send shelter material, blankets and other supplies.
The flooding has displaced at least 198,740 people, according to the U.N. Office for the Coordination of Humanitarian Affairs (OCHA).
"Response in rural areas has been slow thus far," the head of OCHA in Niger, Modibo Traore, told the agency's news arm.
Families left homeless in the remote Diffa region in southeast Niger and Agadez in the north have not received assistance yet. About 80,000 animals have died in Agadez flooding.
"We must find a way to quickly burn or bury their bodies to ensure water sources are not contaminated," Traore said.
The flooding has only compounded the food security crisis in the west African nations, where nearly 15.2 million suffered from hunger after failing harvests, the OCHA said, citing the government.
According to the international aid group Oxfam, Niger is the country worst-hit by the West Africa food crisis. Before the floods, half the population lived under threat of famine, the group says.
According to the international aid group Oxfam, the World Food Program in Niger has abandoned plans to provide emergency food to families with children over the age of 2 because of a funding shortfall.
"We have known about this crisis for months, and yet more than a million people in Niger will continue to starve over the coming weeks and perhaps months," said Raphael Sindaye, Oxfam's deputy regional director in West Africa.
Yacouba Daouda, an agricultural official in Niger's southwest Karma region, said that rains from late July and early August destroyed about 3,500 acres of crops, including rice, sorghum and cassava, according to a report last week from Niger's state-owned news agency.
"These crops are flooded," Daouda said, according to the agency, le Sahel. "Sand swallowed them; only fruit trees survive."
Daouda said that 50 villages in rural Karma lack food.
The head of the health care center in Karma, Zakou Ide, said the floods have provoked a spike in the number of waterborne diseases like diarrhea and dysentery, le Sahel reported.
"Before the flooding of the river, we had 20 visits per day," Ide told le Sahel, "and since the flooding started we register 50 visits on average."
About 80 percent of those patients are children, he said, and most have diarrhea.
Officials in the region say there could be more bad news ahead. "The rainy season is still continuing," said the U.N.'s Traore, "so victim numbers may rise even further."
FOLLOW THIS TOPIC