STORY HIGHLIGHTS
Valentin Abe has started a fish farm in Haiti that's been growing leaps and bounds
His fish farming project has become a source of food and income for poor communities
Born in Ivory Coast, Abe moved to the U.S. to study before relocating to Haiti
He's been named by Time magazine as one of the 100 Most Influential People In the World
Every week CNN's African Voices highlights Africa's most engaging personalities, exploring the lives and passions of people who rarely open themselves up to the camera. This week we profile Ivorian fish farm developer Valentin Abe, whose work in Haiti has prompted Time Magazine to name him as one of the world's 100 most influential people.

Watch the show on Saturdays 1130 and 1830 GMT, Sundays 1700 GMT and Monday 1130 and 1630 GMT.
Croix-des-Bouquets, Haiti (CNN) -- Far from his native Ivory Coast, fish farm developer Valentin Abe has been improving the lives of thousands of poor villagers in Haiti by teaching them how to become commercial fish producers.
His fish-farming project has become a source of food and income for several communities in the small Caribbean nation that has been plagued by poverty, malnutrition and, more recently, the full force of a devastating 7.0 tremor.
"Give someone a fish, and you feed him for a day. Teach him how to fish, and you feed him for life," Abe told CNN from his two-and-a-half-acre fish farm in Croix-des-Bouquets, where he raises tilapia -- a high-protein, warm water fish-- before distributing them to lakeside villagers.
"And I kind of took it and said, well, why not apply it? Go in the field and apply it and teach as many people as I can how to fish and I will feed them for life. And that's how everything started."
The agriculture expert, who left Ivory Coast in 1989 to study in the U.S. on a Fulbright scholarship, first set foot in Haiti in 1997. He was soon convinced that if he could teach the country's poor fishermen to supplement regular fishing with fish farming, their lives would be transformed.

Video: Taking pride in distributing fish

Video: Valentin Abe: the celebrity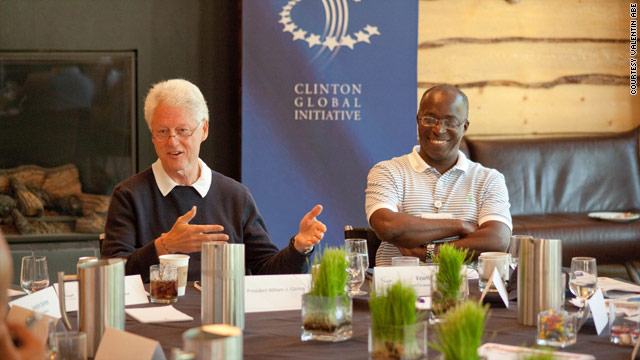 Gallery: Teaching Haitians how to fish for life
But his attempts to generate interest in fish farming fell on deaf ears.
"I was just walking around and wondering why that aquaculture or fish culture is not developed in this country? There is so much potential," he said.
"I drew the plan, talked to as many people as I could but nobody was really interested. But you travel around Haiti and you see there are lakes sitting there. And I said well, I know what I'm going to do."
Despite failing to secure private loans or get backing from the Haitian government, Abe decided to forge ahead with his vision and fund the project out of his own pocket.
In 2006, he managed to scrape together $15,000, which he used to buy his first set of tanks and initial batch of fish hatchlings.
Four years later, his hatchery has grown to contain 36 aluminum tanks.
It is there where breeding fish purchased from Egypt and Israel are grown until they reach what's called the fingerling size -- at two months old.
Then the baby tilapia are distributed to the lakeside villagers along with their feed and a portable metallic cage. Four months later the fish are fully-grown and ready to harvest.
"Everywhere that we have our project, there's people that are poor. And they don't want to stay poor. They want to be allowed to improve their life,' Abe says.
After I set up the program here in Haiti, I might go back to Africa, everywhere they need me.
--Valentin Abe
The work Abe's been doing quietly for years in his adopted country paid off in a big way last October. Former U.S. president Bill Clinton, a UN envoy in Haiti, visited Abe's hatchery and was so impressed that he nominated him as one of Time Magazine's 100 Most Influential People.
"Time Magazine was a big surprise," Abe says. "They called me and said, 'You've been nominated for the Time 100, do you accept the nomination?' At first, I thought it was a joke, I thought somebody was playing a bad joke on me."
Far from a joke, the award and Clinton's support have started to pay dividends. His project has now received extra funding that will go a long way to help the farming families and, by extension, many Haitians displaced in the aftermath of January's quake.
"Those fish are sold in the market, so you have the merchants that will buy fish. Then you have the people that will come buy the fish for the consumption, so improve nutrition, that's added benefit to different communities. And then the money is running around," he says.
When asked why not bring his work and expertise back to his homeland, Abe says: "Yes, I'm from Africa. I'm from the Ivory Coast but now I'm a son of Haiti. Why do it in Haiti? Well, because Haiti, at that time, was the most suitable place to do it.
"Now, this doesn't mean that I cannot help Africa. After I set up the program here in Haiti, I might go back to Africa, everywhere they need me. That's who I am and that's what I want to do -- everywhere I'm needed is home."
Teo Kermeliotis contributed to this report.
FOLLOW THIS TOPIC