STORY HIGHLIGHTS
Feliciano dos Santos uses his songs to teach about sanitation in Mozambique
The artist has set up an NGO that installs clean-water points and low-cost latrines
He has been awarded with the esteemed Goldman prize for his work
Every week CNN International's African Voices highlights Africa's most engaging personalities, exploring the lives and passions of people who rarely open themselves up to the camera. This week we profile Feliciano dos Santos, the Mozambican musician and social activist .

Watch the show on Saturdays 1130 and 1830 GMT, Sundays 1700 GMT and Monday 1130 and 1630 GMT.
(CNN) -- Mozambique's biggest pop star doesn't always sing about eternal romance or lovelorn relationships.
Crooning lyrics like "Let's wash our hands for the children to stay healthy, for the uncles to stay healthy, for the mothers to stay healthy, we build latrines," music icon Feliciano dos Santos uses his songs to educate people about the importance of sanitation and hygiene.
With his internationally-known band, Massukos, Santos spreads his life-saving messages to the most far-flung areas of Mozambique where scores of people still struggle due to lack of clean water and waste management systems.
"People sing the song because they like the sound and the rhythm but also because they know the message that we are passing and what we want to do," dos Santos told CNN.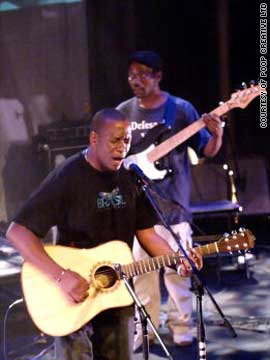 Gallery: Feliciano dos Santos
"Step by step, people are using the music -- this means that the song's there and every time they wash their hands, they remember the song and they sing."
Santos grew up in Niassa, the most northern and poorest province of Mozambique. Here, as in many other parts of the war-torn country, access to safe water is almost non-existent and the spread of disease is always a threat.
The artist realized that the way to teach Niassa's largely illiterate population about sanitation was through music. Massukos sing in the local tribe language, their lyrics focused on crucial issues that speak to their village audiences.
"We use music, because with music it's easy to build the relationships with the community," Santos says. "We change the words in the lyrics -- we put in there about sanitation, about washing your hands, about building latrines and good health. Everything we do here is related to music, so it's a good way to pass the message."

Video: A country struggling to recover

Video: Hope for Mozambique
Afflicted with polio from an early age, Santos was 13 when Mozambique plunged into a civil war in 1977. The conflict lasted for more than 15 years, causing the death of about a million people and leaving the country in a dire state.
When the war ended in 1992, Santos and some of his friends resolved to find a way to bring some joy into the lives of their war-weary community. They formed Massukos -- which means "nourishing fruit" -- to capture and preserve the rhythms of Niassa that had disappeared during the long and devastating conflict.
"The idea was to preserve the traditional sounds of our province, because during the civil war time we had a lot of oppression and refugees went to Malawi, to Zambia and Tanzania. It was a very bad situation at that time and fun was impossible to have."
Santos and the band started traveling around the communities and met many aid workers who were trying to help rebuild the shattered country by setting up various aid programs.
He was inspired by the work being done but felt strongly that Mozambique needed to play a role in its own rebuilding process.
I think we could have another story in Africa, we could have another way of development.
--Feliciano dos Santos
So, in 1996 he co-founded Estamos, an NGO working to solve the problem of sanitation, promote sustainable agriculture and educate about HIV/AIDS.
The organization has launched a series of successful public health initiatives, including the installation of clean-water points and low-cost sustainable toilets transforming human waste into nutrient-rich fertilizers.
The achievements of Estamos have not gone unnoticed -- its campaigns have inspired similar action by other sustainable development programs while Santos is seen as one of the most successful grassroots environmentalists.
In 2008, Santos was presented with a Goldman award for his work, one of the world's most prestigious environmental accolades.
"I cried a lot when received the prize," Santos says. "I cried because in my life I was fighting a lot to ask for the opportunity to show that even with the physical challenge, you can make a difference."
Santos is determined to create a culture of self-sufficiency amongst his people, encouraging them to do all they can to overcome challenges.
"This is my main goal in life," he says. "I want people to think -- not every time asking but they can do things for themselves."
Proud of the work Estamos is doing, Santos is also excited about his band's ever-expanding international fan base. One of Mozambique's most revered bands, Massukos are successfully breaking into the global music scene, having performed in major international music festivals such as Womad and Glastonbury.
Santos has great hope for his future and the future of his continent. He says he's determined to do everything he can to help others.
"I think we could have another story in Africa, we could have another way of development," he says.
"Sometimes when I go to the community, I see people without anything for heat. And I ask myself, 'why is this still happening?' We are in the 21st century. And we still have people who die because they don't have food. Why? I think we could have another story in Africa."
FOLLOW THIS TOPIC