How you connected Canada and the Ivory Coast
STORY HIGHLIGHTS
We highlight the links you made between Canada and the Ivory Coast
Food, religion and sports were all used to connect the two countries
Try connecting our next set of countries: China and Turkey
Global Connections, a segment on CNN's Connect the World, takes two very different countries and asks you to find the connections between them. Here we highlight the links readers made between Canada and the Ivory Coast.
(CNN) -- Once again, thanks to everyone who made connections between Canada and the Ivory Coast. We were quite amazed at the links you found between two countries that at first glance appear to be worlds apart.
We started the week by talking to Lonely Planet editor Tom Hall

. He told CNN's Max Foster that one of the most interesting links is that both countries have brilliant borders.
Canada's border with the United States is the longest land border in the world, Hall said. Meanwhile the Ivory Coast, which has five countries neighboring it and a sea coast, has a most unusual border.
Ailish Coblentz in Toronto made another interesting point related to borders. The populations of both countries live near the periphery. Most Canadians live near the U.S. border, and likewise citizens in the Ivory Coast live around the edges.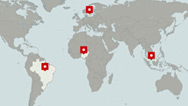 Track the countries via our interactive map

Video: Connecting Canada to Ivory Coast

Video: A Canadian's connection to Africa
"Jose Nagbe," like many of you, noted that a shared French heritage links Canada and the Ivory Coast.
"Philip Ideh" connected the two countries by pointing out that both countries have great monuments. The Ivory Coast, for instance, has the largest church in the world.
Ziebono Nagbe also linked the two countries by religion, saying that there are sizeable Catholic populations in both Canada and the Ivory Coast.
We also interviewed Canadian author Yann Martel, the Booker Prize-winning author of "Life of Pi." He told us about how Canada inspires and shapes his work.
There were two main food-related connections that many made. "Curt," a commenter on the blog, said the Ivory Coast is a major producer of coffee, and Canadians love coffee.
Bob Nelmes pointed out that the Ivory Coast produces loads of cocoa -- and that Canadians love drinking hot chocolate, especially during the wintertime. We also took a closer look at the the cocoa industry in the Ivory Coast, highlighting some of the challenges farmers there face.
"Linda Sampson" used sports fans to connect the two countries. Canadian fans of ice hockey and Ivorian soccer fans are both "crazy and dedicated," she wrote on the blog.
Please keep sending us your comments. The next set of countries we're looking at is Turkey and China. Check out our quiz to see how much you know about these two countries, and if you make any links, leave us a message on the blog. As usual, we'll investigate the best on Connect the World.
Happy connecting!
FOLLOW THIS TOPIC