STORY HIGHLIGHTS
Paul and Rachel Chandler were kidnapped by pirates in October 2009
Couple was held for long periods in solitary confinement somewhere in Somalia
They appeared on video as recently as May appealing for UK government intervention
"It is kidnapping and extortion and even torture," Paul Chandler said
(CNN) -- It has been just over one year since retired couple Paul and Rachel Chandler were snatched from their yacht by pirates while sailing from the Seychelles towards Tanzania.
They were experienced sailors and had been at sea for the best part of three years, as documented in blogs sent from their 38-foot yacht, the Lynn Rival.
"Off we go again," reads one of their earliest entries from April 2006. "Afloat at last," they declared the following May, noting that "As ever, all our pre-launching tasks have taken longer than expected. The main task was a much needed engine overhaul. After 27 years it needed a good de-rust and re-paint."
An online map on the blog charts the couple's progress through the Gulf of Aden in 2008, including a stop to visit Asmara, the capital of Eritrea where they noted: "We drank cappucinos and ate seafood pasta and pizza with real prosciutto, though the salami left something to be desired and the local wine is very rough."
Their trip continued across the Arabian Sea and down the coast of India, south to the Maldives then onto the Seychelles where Paul, a former civil engineer and his wife of almost 30 years, Rachel, spent Easter.
The last full entry in their diary was written on October 21, 2009 as they prepared to leave the Seychelles for Tanzania. It ended: "We probably won't have satellite phone coverage until we're fairly close to the African coast, so we may be out of touch for some time."
Two days later, they were kidnapped by armed gunmen who demanded a ransom of $7 million which the British government refused to pay in line with long-standing policy.

Captive describes hijack

UK couple kidnapped by pirates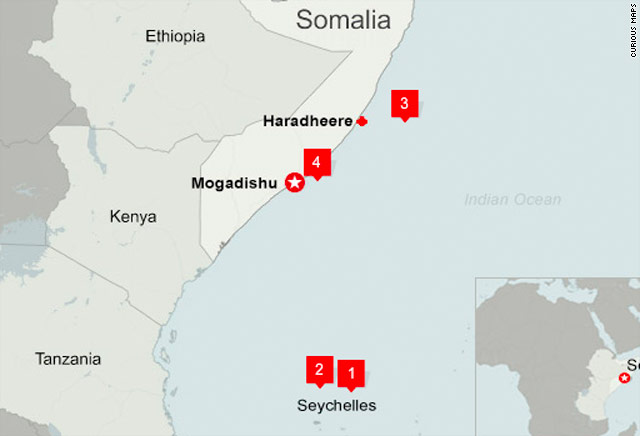 Hostage couple's last movements
Paul Chandler's first contact as a hostage came a week later down a crackly phone line with Britain's ITV News. "Men with guns came aboard," he said, "then we were forced to sail ... toward Somalia."
Chandler said he and his wife were taken off the yacht and were held on a container ship called the Kota Wajah. It later emerged that their kidnapping was witnessed by sailors aboard the Royal Navy refueling vessel, the RFA Wave Knight, who did not intervene for fear of putting lives at risk.
First Sea Lord Admiral Sir Mark Stanhope launched a robust defense of their actions one month later, telling an audience at Chatham House in London: "Had there been the opportunity to intervene while being at all sure of guaranteeing Rachel and Paul Chandlers' safety, they would have done so. The decision not to intervene was unquestionably the right one in the circumstances."
Over several months, the Chandlers appeared on camera to plead British authorities to work for their release.
"Our kidnappers are losing patience," the couple appealed down the lens last November, as gunman lurked in the background. "They are concerned that there has been no response at all to their demands for money," Paul Chandler said.
Months later, after a period of separation during which they were kept in solitary confinement, the couple appeared in their first on-camera interview as hostages.
Looking thin and weary and perched on plastic chairs deep in the Somali scrubland somewhere between the towns of Haradhere and Adado, they spoke to freelance Somali journalist Jamal Osman.
"This is not piracy and must not be reported as such," Paul Chandler said. "It is kidnapping and extortion and even torture." During on the interview, which aired on Channel 4 news in May, Rachel Chandler said they'd been "caged up like animals."
"They don't care whose lives they ruin. They just want the money," she said, while gunmen stood out of view behind the camera. The couple pleaded to newly-elected Prime Minister David Cameron to make clear the government's intentions in regard to their release.
"If the government is not prepared to help, then they must say so, because the gangsters' expectations and hopes have been raised at the thought of a new government and there might be a different approach," Paul Chandler said. The British Foreign Office responded with a statement saying consular officials were in close contact with the Chandlers, while also urging the kidnappers to let them go.
"Paul and Rachel Chandler are innocent tourists," the statement said. "The UK government's policy of not making or facilitating substantive concessions to hostage-takers, including the payment of ransoms, is long-standing and clear. This has been the policy of successive governments and has not changed."
The waters around the Horn of Africa, especially off the coast of lawless Somalia, have become a hub for piracy, making the busy shipping routes among the most dangerous in the world.
One hundred pirate attacks were recorded off the coast of Somalia in the first half of 2010, according to the International Maritime Bureau.
The number was improvement on the same period last year due to extra patrols by navy vessels, the IMB said, while noting the increasing use of rocket propelled grenades by pirates off the Somali coast.
"Somali pirates are dangerous and are prepared to fire their automatic weapons and RPG at vessels in order to stop them," according to the IMB website.
During their last interview in May, Paul and Rachel Chandler urged their families not to give up hope. They said the only thing that mattered was freedom.
""We don't have it. Nothing else matters really," Paul Chandler said. "We don't miss any thing. We miss everything. We miss the ability to walk out of the door and determine our own lives, wrongfully taken from us."
FOLLOW THIS TOPIC