STORY HIGHLIGHTS
NEW: Paul and Rachel Chandler's family won't comment on reported ransom
The Chandlers have landed in Kenya
Local elders say about $750,000 was paid for their release
The Chandlers were seized from their yacht last year
(CNN) -- A British couple kidnapped by pirates was released after more than a year in captivity, their family said in a statement Sunday, but would not comment on a reported ransom payment.
Paul and Rachel Chandler were seized from their yacht on October 23, 2009, just after they set sail from the Seychelles Islands for Tanzania.
The Chandlers landed in Kenya late Sunday afternoon, said Abdurraham Omar Osman, Somali government spokesman. The couple's family also confirmed their arrival.
"Throughout the protracted discussions with the pirates it has been a difficult task for the family to get across the message that these were two retired people on a sailing trip on a small private yacht and not part of a major commercial enterprise involving tens of millions of pounds of assets," said a statement issued by the couple's family.
"Thankfully, common sense prevailed and a solution was obtained for their release in the last few days. There will be the inevitable questions of how their release was achieved," the statement said. "The family believes it would be irresponsible to discuss any aspect of the release process, as this could encourage others to capture private individuals and demand large ransom payments, something that we are sure none of us wants."

Captive describes hijack last year

How pirates operate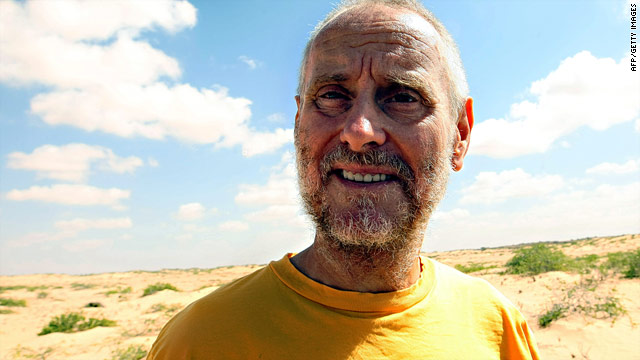 Gallery: British couple's pirate ordeal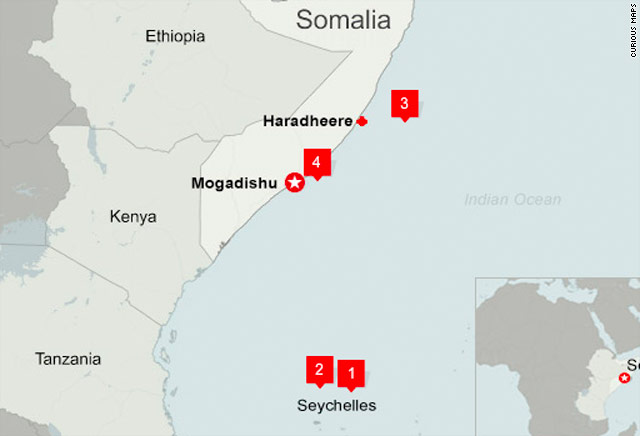 Hostage couple's last movements
A ransom of about $750,000 was paid for their release, local elders in Somalia said. They did not want to be identified because of the sensitivity of the issue.
The family statement Sunday said the Chandlers' relatives "would like to thank those in the Somali community especially, both locally and in the UK, who did so much to help secure their release."
"They are physically and mentally doing well, and excited to be alive," said Mohamed Aden, a local elder in Adado. "Paul and Rachel Chandler are safe and doing fine.They have had a good shower and they are eating breakfast."
Aden was one of the key elders involved in helping secure their release.
The couple is "in good spirits although very tired and exhausted," the family statement said. The two will have medical checks in Nairobi and then fly back to the United Kingdom, it said.
"We cannot yet be certain how the difficulties that they have had to endure in recent months will have affected them physically and emotionally," the family statement said. It asked that the couple be allowed time to readjust as they return to their family and friends.
"Paul and Rachel Chandler's release is tremendous news," British Prime Minister David Cameron said in a statement. "Their long captivity is over at last. We will ensure that they are reunited with their family as quickly as possible. I unreservedly condemn the actions of those that held the Chandlers for so long. Kidnapping is never justified. I am grateful to all those who have worked so hard to bring the Chandlers safely out."
Last year, Paul Chandler pleaded for their life in a two-minute video broadcast on Britain's Channel 4. He was surrounded by armed men pointing weapons at him.
At the time, Chandler said the captors could kill them if a $7 million ransom were not paid.
"We are concerned that these people will lose patience and will not feed us -- and I have no doubt that they will not hesitate to kill us, perhaps within a week or so of now if there is no response," he said. "So, please somebody get in touch. Otherwise we just sleepwalk to a tragic ending."
Last year, British officials have refused to pay a ransom or negotiate with pirates. Officials have said doing so would only encourage more kidnappings.
"The government will not make substantive concessions for hostage takers, including the payments of ransom," the British Foreign and Commonwealth Office said in a statement.
Pirates have been very active off the east coast of Africa in the past several years, operating out of lawless Somalia.
It was unclear who paid the ransom, but a local elder told CNN that the Somali diaspora in England played a key role in raising the funds.
CNN's David McKenzie and Bharati Naik contributed to this report.
FOLLOW THIS TOPIC