STORY HIGHLIGHTS
Chandlers need time, space alone as they re-adapt, psychotherapist says
Couple were subjected to "psychological torture" during their ordeal
Period spent separated from each other would have been worst time
Terry Waite: Hostage situations can reveal hidden depths of resilience
(CNN) -- Paul and Rachel Chandler said they were "skinny and bony -- but fine" after more than a year being held hostage by pirates but the British couple could spend years coming to terms with the "psychological torture" of their ordeal.
The Chandlers, who were seized while sailing off the Horn of Africa in October 2009, said Monday they planned to return to the UK very soon to be reunited with their families. With the couple pictured on the front pages of most British newspapers, they also face intense media interest in their story.
But psychotherapist Lucy Beresford said the couple would likely need some quiet time alone following the "abrupt transition" of their release.
"They are going to have gone from having very reduced contacts with people and a very reduced number of options in terms of their environment to facing an onslaught of different people, settings and lots of activity," Beresford told CNN.
"It doesn't really matter how desperate they are to be reunited with their loved ones; they will probably also instinctively want to retreat and have some quiet moments and some quiet space together. The important thing is to give these people time. They have to relearn the spontaneity of the real world."
Terry Waite, a former envoy to the Archbishop of Canterbury who spent almost four years as a hostage in Lebanon from 1987 to 1991, said the biggest challenge the Chandlers would face would be adjusting to the emotional changes.
"When you're living as they have lived for 12 months with a high degree if uncertainty it will take time to adjust for that," Waite told ITN.
The couple would likely experience mood swings and talking to each other and to professional counsellors would be invaluable to their recovery, Beresford said.
"There will be elation, but there will also be guilt and dread and fear about how people will react -- just a whole range of emotions. Paul and Rachel will actually spend years debriefing each other."
Beresford said that hostages would often suppress their emotions to cope with the situation and in order to survive.

'It is a good day'

Kidnapped couple free

Captive describes hijack last year

How pirates operate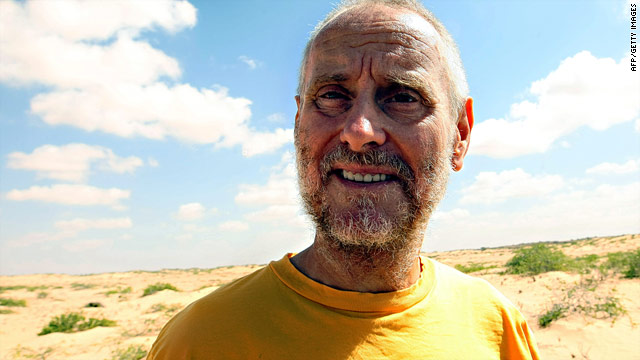 Gallery: British couple's pirate ordeal
"Instinctively the hostage knows they have to become very compliant and very passive. Once hostages are freed they can often find it very hard to keep emotions in and therapy can be very helpful to help you manage your own emotional responses."
The death of Paul Chandler's father during his captivity would further complicate the couple's recovery.
Couple freed by pirates learn of father's death
"Their sense of loss may be compounded by a sense of guilt because they were not there," said Beresford.
"Bereavement does usually generate a certain degree of anger and my sense is a lot of that anger will get projected onto the people who held them hostage."
Beresford said the couple appeared to have been subjected to a lot of "mental torture" at the hands of their captors. Paul Chandler told the BBC following their release that they had been told they would be freed in 10 days "almost every 10 days for nine months."
The couple also spent a period in isolation from each other and said they were beaten when they refused to be separated. Beresford said the time apart would have been the most traumatic period of their ordeal.
"Whatever fear you're feeling is magnified by the extra fears of being on your own or not knowing what's happening to your loved ones," she said. "That's psychological torture. It's very, very cruel."
Beresford said it was naive to assume the Chandlers could go back to their old life, but said the resilience they had displayed in captivity would serve them well. Getting back aboard a boat could also be part of the healing process for the experienced sailors, she added.
British couple's plight as pirate captives
"We will always be changed by the things that happen to us. But the personality traits that have helped them endure this awful period of terror will stand them in good stead. Not many of us would decide to get a boat and go sailing around the world for years at a time so they are probably quite forthright and strong people.
"My hope is that they can incorporate this awful experience in a way that works for them. I'm sure there is a side to them that will want to get back out on the sea."
Waite said that being held captive could reveal depths of character that enabled hostages to survive and recover from the ordeal.
"People have the most amazing resilience," Waite said. "People say to me, well, how did you manage in those years? How did you cope? I always reply by saying, well, most people have within them a capacity that you never know you have until you're tested.
"Those dear people have been tested but I'm pretty sure they have that resilience and they'll come through it fine."
FOLLOW THIS TOPIC