Rhino horns fitted with GPS trackers
STORY HIGHLIGHTS
GPS technology being used to track rhino and catch potential poachers
Hole drilled in rhino horns to fit small canister that contains tracking device
More than 250 rhinos have been slaughtered for their horns this year
System monitor rhino movements and sends alert if it detects something uncharacteristic
Mafikeng, South Africa (CNN) -- Across the South African bushveld a small white helicopter chased a rhino, one of Africa's most endangered animals.
Eventually, over the din of the chopper blades, we heard a pop from the dart gun aimed at the rhino's rear.
The dart immobilized the animal and a small group of khaki-wearing game farmers, vets and others rushed in on small vehicles to blindfold the confused, stumbling animal.
They told us that covering the rhino's eyes and ears would lessen the trauma of what was to happen next.
The group of conservationists then began monitoring the rhino as someone drilled into the rhino's horn, using an electric drill powered by a generator sitting on the back of a pick-up truck.
They burrowed an eight centimeter hole, about an inch wide. Inside they embedded a silver canister and then plugged up the incision with putty and wrapped some masking tape over the rhino horn, like a make-shift bush bandage.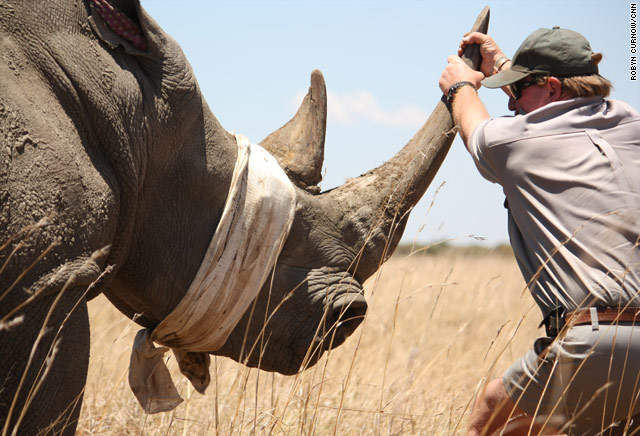 Gallery: Rhino tracking in South Africa
This radical surgery is an experiment that many in South Africa hope will help to curtail the massive surge in rhino poaching. More than 250 rhinos have been slaughtered for their horns this year, a huge increase compared to previous years.
The hope is that the technology inside the silver canister will deter and even help to catch rhino poachers red-handed.
Stephan Britz of ProTagTor, the company that developed the technology, says the unique aspect of its tags is that they do not rely on cell phone reception, which is intermittent in many remote areas. Instead the tracking device is based on a combination of GPS and radio frequency technology.
The radio antennae embedded in the rhino horn sends information on the animal's location and sensors monitor its average movement patterns. All this data is fed back a central control room, every 60 seconds.
Importantly, Britz says, "The system learns the movement pattern of a rhino and so if a rhino's movement suddenly changes or there is a lot of rapid, uncharacteristic movement, then an alarm SMS is triggered by the horn tag."
The control room then alerts people close to the rhino's location so they can check on the animal and, if they get there in time, apprehend any poachers.
The day we filmed, animal after animal was tagged and Britz confirmed that across the country more of this technology will be used by game farmers and national park authorities to monitor their precious rhino stocks.
FOLLOW THIS TOPIC