Somali Islamic party joins more hard-line group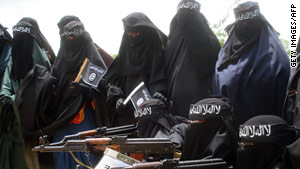 Somali women attend a demonstration by the hardline Al Shabaab in Mogadishu, Somalia.
STORY HIGHLIGHTS
Militant party says it is joining with Al Shabaab
The party, known locally as Hiz bul Islam, is being absorbed by harder-lined group
The party had been on the losing side in struggles with Al Shabaab
(CNN) -- A spokesman for Somalia's Islamic party, a militant group in the horn of African nation, has confirmed that the group has merged with the brutal and more hard-line group of Al Shabaab.
The spokesman, Mohamed Osman Arus, told the local media in a news conference that his group has essentially been absorbed by Al Shabaab.
"We, the Islamic party, have decided to join Al Shabaab both militarily and principally and the reason is, we want to combine our force and fight against the forces of the transitional government and those of the African union," said Arus.
Arus said the group's leader, Sheikh Hassan Dahir Aweys, who is on U.N. terror watch list, is among those to have joined Al Shabaab and there will be no Islamic party structure any longer.
Members from Al Shabaab are seen to be taking control of all positions previously held by the Islamic party both in and around Mogadishu, according to residents in the capital.
Al Shabaab and Hiz bul Islam, as the Islamic party is locally known, have fought bitterly in some parts of southern Somalia. The two groups have struggled for control of the lucrative port city of Kismayo.
In all the cycles of fighting, it was the Islamic party or Hiz bul Islam who lost, according to observers.
Journalist Mohamed Amiin Adow contributed to this report