Sudan's president warns of tighter Islamic law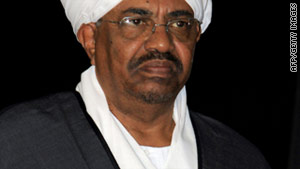 Sudanese President Omar al-Bashir is threatening to tighten the application of Islamic sharia law.
STORY HIGHLIGHTS
Sharia is the law of the land in northern Sudan, which is predominantly Muslim
Authorities have eased up on enforcement since a 2005 peace treaty
Al-Bashir says Sudan will tighten enforcement if South votes for independence
His comments have stirred fears that sharia would be applied to non-Muslims in the north
Khartoum, Sudan (CNN) -- Sudanese President Omar al-Bashir has warned that he will tighten the application of Islamic law, or sharia, in northern Sudan if southern Sudan votes for independence next month, the Sudan News Agency reported.
"If the separation of the South unfortunately happens, the constitution will be amended and sharia will become the main source of legislation," al-Bashir said.
Sharia already is the law of the land in northern Sudan, but the authorities have relaxed their enforcement of it since a 2005 peace treaty ended more than 20 years of civil war.
The war pitted a northern government of Arab Muslims against blacks in southern Sudan who practice Christianity and animist religions. It killed 2 million people and displaced several million others, mainly from southern Sudan.
The president's comments have stirred fear that the government will implement sharia for the hundreds of thousands of Southerners and other non-Muslims in northern Sudan, including many who fled fighting, disease and famine in the South.
The 2005 peace treaty that ended the North-South war in Sudan called for a referendum on whether the South would form an independent nation or remain a part of Sudan. That vote is scheduled to happen January 9.
Al-Bashir said recently that the separation of the South would be akin to "cutting-off a part of the nation's body but not the end of the world," the Sudan News Agency reported. The president also sought to reassure Northerners who worry about losing access to oil in southern Sudan; he said there is also oil in the North and in greater quantities.
On Friday, al-Bashir said the North would be willing to give up its share of oil revenues if the South voted for unity in the referendum. He made the proposal in a meeting with a delegation from the African Peace and Security Council in Khartoum.
The Sudan People's Liberation Movement, which governs the semiautonomous South, rejected the offer as too late and said unity cannot be "achieved through oil."
"We don't expect this to be an offer," said Atem Garang, a senior SPLM leader and deputy-chair of the Sudanese National Assembly.
"You cannot offer the people their own oil," he told CNN.com.
"There can be unity when there is a democratic transformation in the country ... and there is equality and justice," Garang added.
FOLLOW THIS TOPIC