Passing down Zanzibar's music traditions
STORY HIGHLIGHTS
A Zanzibar music academy is preserving some of the island's rich musical heritage

Traditional music styles which were in danger of dying out being taught to young musicians

Taarab music blends international music styles with Swahili poetry and local rhythms
(CNN) -- Mohammed Issa Matona is a man on a mission. A master of taarab music, Matona is also the co-founder of Zanzibar's Dhow Countries Music Academy, a school dedicated to preserving the island's traditional music styles.
Taarab derives its name from Arabic and means "to be moved by music," and draws on a range of influences from Africa, the Arab world, India, Indonesia and Western music.
These musical influences blend with "classical traditions of Swahili poetry, local rhythm and melody" according to the academy's website, with taarab orchestras closely resembling "classical Egyptian orchestras, with full violin section, cello and bass, but also accordion, oud, qanun, rhythm section, keyboards and ney flute."
Matona says no other music captures the movement and rhythm of the island quite like taarab.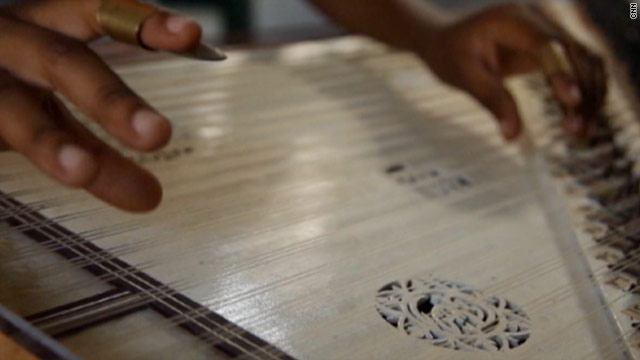 Gallery: Dhow Countries Music Academy
"This music is something that reminds you of a lot of things. To know yourself, where you are coming from, which way you need to behave. For us music is not only for the joy, it is for education, social matters and politics," Matona said.
Taarab's precise origin is often debated but whether it be in Egypt or East Africa, Matona says the island's version is distinct.
"Although we play taarab it is not like the Egyptian because the way we speak is different, the way of our ideas, the way of our teaching. This taarab is from Zanzibar."
But before the school was founded in 2002, many people in Zanzibar worried that taarab's identity was under threat.
We have 25 young people studying these traditional instruments and traditional taarabs
--Mohammed Issa Matona
One of the academy's star pupils is 26-year-old Hassan Mahenge. When he enrolled he says he was among only a handful of students willing to take up taarab's traditional instruments.
"At my age, I was the only one at an advanced level studying this music. I love this music. This is the music of my home and I should learn this music to keep it alive," Mahenge said.
Younger musicians are still drawn to more modern instruments rather than traditional instruments like the oud (a type of lute) and the qanun (similar to a zither) , Mahenge said.
In the past, older musicians on the island rarely took the time to nurture young talent, Matona said. But he's trying to make up for lost time and spends most days teaching his young students the music and stories of taarab.
Matona said: "Since this academy started, I'm not afraid anymore, because now we have 25 young people studying these traditional instruments and traditional taarabs. My aim is to teach more and to advise young musicians to study traditional music."
Matthew Knight contributed to this report
FOLLOW THIS TOPIC