Celebrity telethon to raise money for Haiti efforts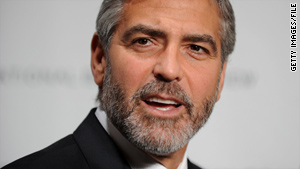 Known for his devotion to causes, George Clooney is now joining an MTV telethon for Haiti.
STORY HIGHLIGHTS
Fundraising program to be telecast on numerous networks on Friday, January 22
All proceeds will be split among five relief organizations
Other celebrities have already launched efforts to aid quake-ravaged Haiti
(CNN) -- In the wake of the earthquake in Haiti, George Clooney and other celebrities have signed on for a telethon to aid the devastated island nation.
The Oscar-winning actor will take part in a fundraising program to air commercial-free across several networks, MTV announced.
"Hope for Haiti Now" will air on ABC, CBS, NBC, FOX, CNN, BET, The CW, HBO, MTV, VH1 and CMT starting at 8 p.m. ET/PT and 7 p.m. CT on Friday, January 22.
MTV said Clooney will serve as a host in Los Angeles, while musician Wyclef Jean will be in New York, and CNN's Anderson Cooper will appear from Haiti.
The two-hour event will feature as-yet-unnamed musical performances and celebrity appearances, as well as live news reports from CNN.
It's Hollywood's latest philanthropic gesture in reaction to the catastrophic situation in Haiti.
A celebrity lounge at this weekend's Golden Globe Awards in Beverly Hills has been turned into a Haitian aid fundraiser.
Medecins sans Frontieres says actors Angelina Jolie and Brad Pitt have donated $1 million to the group's emergency medical operation as it responds to the disaster.
Full coverage of the earthquake in Haiti
Tuesday's 7.0 earthquake has devastated the poverty-stricken country's infrastructure. Haitian President Rene Preval said Wednesday that he had heard estimates of up to 50,000 dead but that it was too early to know for sure.
Damage has closed the port and limited airport operations in the capital city of Port-au-Prince, and the quake buckled many roads, making it extremely difficult for aid groups to bring in emergency supplies and search for survivors in the rubble.
MTV said all proceeds from the telethon will be split evenly among seven relief organizations currently operating in Haiti: Clinton-Bush Haiti Fund, Oxfam America, Partners in Health, the Red Cross, UNICEF and Yele Haiti Foundation and World Food Programme.

Part of complete coverage on

They filled the grounds in front of the collapsed cathedral in Haiti's capital Wednesday. To remember. To cope. To pray.

Can-Do founder Eric Klein spent most of 2010 in Haiti helping people recover from the devastating earthquake.

A much-awaited review of Haiti's disputed presidential election has been completed but not yet been handed over to the president.

Haiti's economy is getting a boost thanks to a venture with one of Korea's largest companies that promises to bring in 20,000 jobs.

Nadine Devilme has thanked God countless times for saving her baby and has wanted to thank the doctor who treated the child after the earthquake.

Amy Wilentz says a year after the earthquake, much of the funding to rebuild is stalled as aid organizations wait for the election crisis to be resolved.


Today's five most popular stories