STORY HIGHLIGHTS
Watch continuing earthquake coverage on CNN
Read Twitter feeds to stay up to date on the latest in Haiti
Read CNN.com's complete special coverage of the latest developments in Haiti
Look here for news updates on the aftermath of a 7.0 earthquake that struck Haiti. All times are Haiti local time, which is the same as Eastern Standard Time in the U.S. and five hours behind GMT.
(CNN) -- 10:44 p.m. -- The family of Anaika St. Louis lays the 11-year-old to rest in a tearful ceremony. The girl spent 48 hours trapped under rubble that killed more than two dozen friends and neighbors, her leg crushed by a steel beam. She died after she was unable to receive proper medical treatment. Watch her story

10:31 p.m. -- Sixteen members of the joint NYPD-FDNY Urban Rescue Team in Haiti are attempting to rescue five people trapped alive in a collapsed grocery store in Port-au-Prince, the New York Police Department said Saturday. The five are in verbal communication with the NYPD and FDNY rescuers who are cutting through concrete blocks to reach them.
10:09 p.m. -- CNN's Errol Barnett talks about how to make sure Haiti relief donations go to the right place. Watch

9:35 p.m. -- Authorities say a woman trapped under the rubble of a bank is sending text messages pleading for help. Watch

9:26 p.m. -- Earthquake survivor Tarmo Joeveer, who was rescued from the rubble at the U.N. mission in Haiti, recalls the chaos on CNN's Larry King Live: "It happened very fast, the buildings started shaking and then all of the sudden, it collapsed down."
8:17 p.m. -- A rescue swimmer helped deliver a Haitian newborn aboard a Coast Guard helicopter on Saturday, the Coast Guard said. The woman went into labor as the helicopter was refueling aboard the Coast Guard Cutter Tahoma. The mother and child were taken to a hospital in Cap Haitien, Haiti for further medical treatment and were in good condition.
7:41 p.m. -- Musician Wyclef Jean denounces allegations that he has profitted personally from donations to his charity, Yéle Haiti. "It is impossible for me to even comprehend the recent attacks on my character and the integrity of my foundation, Yéle Haiti. The fact that these attacks come as we are mobilized to meet the greatest human tragedy in the history of Haiti only serves to perplex me even further."
7:18 p.m. -- Emergency visas and passports could help speed up adoptions that stalled after the quake, and open up beds for children who lost their parents, said Dixie Bickel, director of God's Littlest Angels orphanage, outside Port-au-Prince.
7:04 p.m. -- U.S. Embassy employee Victoria J. DeLong, a foreign service officer, is among the dead, State Department officials say. Additionally, 14 American private citizens were killed, but the State Department did not provide names.
6:31 p.m. -- HaitiMission, a pair of Christian missionaries living in Haiti, are posting ongoing updates on iReport.com on the situation in Port-au-Prince, Haiti. See their updates
Are you there? Send us images, video
5:54 p.m. -- Secretary of State Hillary Clinton presented Saturday a united stance with Haitian President Rene Preval during her visit to the quake-battered capital. "We are here at the invitation of your government to help you." Watch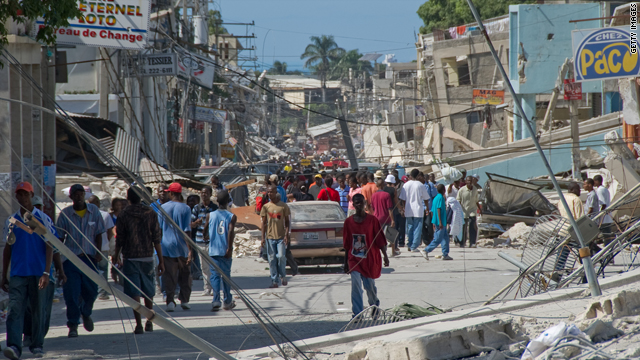 Gallery: Devastation from Haiti earthquake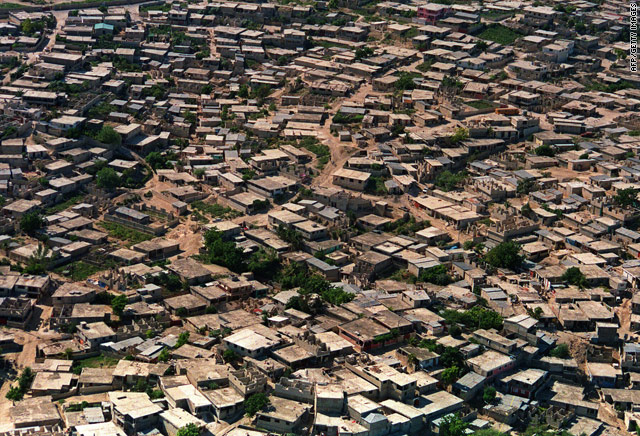 Haiti facts: A history of strife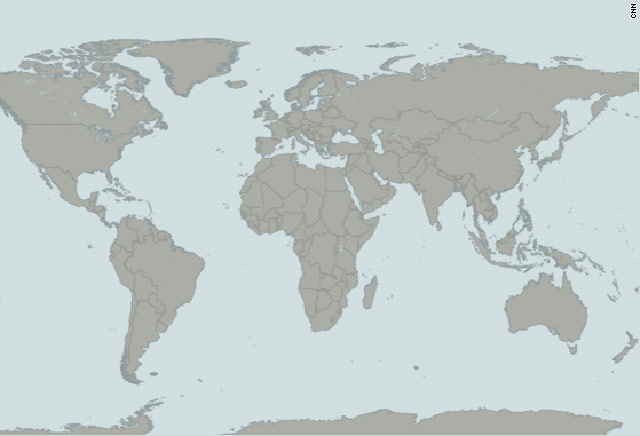 Map: 10 biggest, deadliest earthquakes
5:32 p.m. -- U.S. troops hand out some 2,500 meals in Port-au-Prince in the first American food aid distributed in Haiti since Tuesday's earthquake.
5:18 p.m. -- The top two civilian officials at the U.N. mission in Haiti -- Hédi Annabi, Special Representative of the Secretary-General in Haiti and Principal Deputy Special Representative Luiz Carlos da Costa -- were killed in Tuesday's earthquake, Secretary-General Ban Ki-moon confirms. Acting U.N. Police Commissioner in Haiti Doug Coates of the Royal Canadian Mounted Police also died, he said. Read more
5:04 p.m. -- Haitian President Rene Preval emerges from tent after nearly an hour of talks with Secretary of State Clinton and other U.S. officials, CNN's Elise Labott reports. The officials go to a neighboring tent to visit a man who was pulled from the rubble around the time Clinton arrived, state officials said.
4:17 p.m. -- Every inch of floor space at De La Paz Hospital is occupied with individuals suffering from traumatic, severe injuries, CNN Radio's Steve Kastenbaum reports. Spain is facilitating medical supplies, but they are in desperate need of anesthetic, sutures, plaster of paris, gauze and water.
3:02 p.m. -- U.S. Secretary of State Hillary Clinton has landed in Port-au-Prince. Clinton will meet with the Haitian President Rene Preval and Prime Minister Jean-Max Bellerive.
2:23 p.m. -- The U.S. Navy ship Comfort is on its way to Haiti. The floating hospital left Baltimore, Maryland, on Saturday morning. It is fully staffed with doctors and nurses. Watch more

1:50 p.m. -- The stench of decomposing bodies grows stronger every hour in Haiti, CNN Radio's Steve Kastenbaum reported. Many survivors remain trapped, and the injured can't reach hospitals because there is no gas.
1:20 p.m. -- Homeland Security Secretary Janet Napolitano said that crowded "airspace over Haiti is like gold" as nations work to deliver aide.
12:57 p.m. -- Vice President Joe Biden said people affected by Hurricane Katrina are organizing to help earthquake victims. Biden spoke at Homestead Air Reserve Base in Florida, where relief supplies are being shipped to Haiti.
11:50 a.m. -- Frustration with the pace of aid is mounting. "The sky has already fallen, and now you come," bemoaned a teary man in French with his arms outstretched. Time: Full story
11:35 a.m. -- People looking for loved ones in Haiti are posting their pictures on CNN.com's iReport page dedicated to them. Likewise, people in Haiti are sending messages out to say they're OK.
11:24 a.m. -- Tennis star Roger Federer has organized a charity event to raise funds for the victims of the Haiti earthquake, to be joined by other top players in the sport. Full story
11:02 a.m. -- President Obama emerged from the White House and announced that former Presidents Clinton and George W. Bush will lead an effort to raise funds for Haiti. ClintonBushHaitiFund.org
10:25 a.m. -- A U.N. spokesman denied Saturday that U.N. officials had ordered doctors to abandon a field hospital Friday night. Full story
10:04 a.m. -- Obama received an update on the Haiti situation Saturday morning, then met with top staff to discuss relief efforts.
9:48 a.m. -- Programmers, Web developers and other technical experts will meet Saturday in Washington and other cities to brainstorm ways computer technology can help in the aftermath of the Haiti earthquake. Full story
9:40 a.m. --The Israel Defense Forces have set up a field hospital with 220 workers, including doctors and nurses, at a soccer field in Port-au-Prince, according to the IDF's Haiti Twitter site.
Follow daily developments:
9:21 a.m. -- The dumping of bodies into mass graves in Haiti is unnecessary from a public health standpoint, experts said. "The reality is that most of the diseases that live in us -- once our body is dead they can't survive very long," said Oliver Morgan, an epidemiologist at the Centers for Disease Control and Prevention in Atlanta, Georgia.
7:33 a.m. -- U.N. doctors returned Saturday morning to a field hospital they were forced to abandon Friday night, reported Dr. Sanjay Gupta, CNN chief medical correspondent. Gupta stayed through the night as the only physician caring for patients. "The patients are all doing great, and they're all going to get great care," Gupta said.
7:12 a.m. -- Reacting to the abandonment of a U.N. field hospital overnight, retired U.S. Army Gen. Russel Honore said American soldiers are ready and eager to provide security. "The soldiers on the [USS] Carl Vinson, when they saw that report -- they want to go," Honore said Saturday morning on CNN. "Let's unleash the U.S. military and let them get in there. ... They got to throw caution to the wind, they got to take some risks, they got to adapt and overcome. They need to let the military go and let them do their job."
5:35 a.m. Saturday, January 16, 2010 -- U.S. Secretary of State Hillary Clinton is set to arrive Saturday in Haiti with USAID chief Rajiv Shah. The focus is speeding relief and recovery effort.