Cartel turf war behind Juarez massacre, official says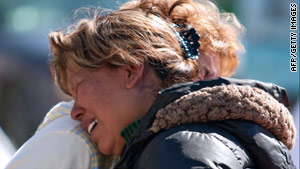 Relatives of youths killed during a party in Juarez mourn on Monday in the neighborhood where the killings happened.
STORY HIGHLIGHTS
Gunmen belonged to the Juarez drug cartel, official says
Attackers thought targets were affiliated with rival Sinaloa cartel, official says
Most of 16 slain are said to be uninvolved in drug trade
Sinaloa, Juarez groups have been fighting turf war that has left 230 people dead in 2010
(CNN) -- A war between drug gangs was behind this weekend's massacre in Ciudad Juarez, Mexico, that left 16 dead, including 10 teenagers, an official told CNN Tuesday.
The gunmen who opened fire on a party early Sunday belonged to the Juarez drug cartel, who believed that the partygoers were all members of a gang affiliated with the rival Sinaloa cartel, Enrique Torres, spokesman for the city's federal security operations, told CNN.
Details of the alleged motive came from a police interrogation with a suspect who was arrested Monday.
Oscar Dolores Arroyo Chavarria, 30, a member of the Juarez cartel, was arrested after a shootout with soldiers, Torres said. Another cartel member, identified only by his nickname -- "El Doce," or "12" -- was killed in the confrontation.
Arroyo Chavarria told authorities that El Doce contacted him Saturday about working as a lookout for the shooting, Torres said. They believed that everyone at the party was a member of the Artista Asesinos gang, which is affiliated with the Sinaloa cartel.
The Sinaloa and Juarez groups have been fighting a bloody turf war that has left 230 people dead this year alone.
But the partygoers were mostly youths uninvolved in the drug trade, Torres said.
Only three of the victims -- all adults -- were found so far to have been street-level drug dealers, Torres said.
One of the victims may have been a higher-level organized crime member and a possible target of the attack, Juarez Mayor Jose Reyes Ferriz told CNN en Español on Tuesday night.
Investigators continued to search for the gunmen.
The attack happened at about 12:30 a.m. local time Sunday in southern Juarez.
According to witnesses, between four and seven cars arrived, closing off the street, before gunmen emerged and began shooting.
Ten of the victims were between the ages of 13 and 19, according to the Chihuahua state prosecutor's office. Four ranged from ages 23 to 42, and two others were unidentified.
Video from the scene showed a sparsely furnished home, with puddles of blood on the ground and blood smeared on parts of the wall.
The state government is offering a reward of 1 million pesos (U.S. $76,000) for information leading to the arrests of the gunmen.