With violence rising, U.S. Consulate closes office in Reynosa, Mexico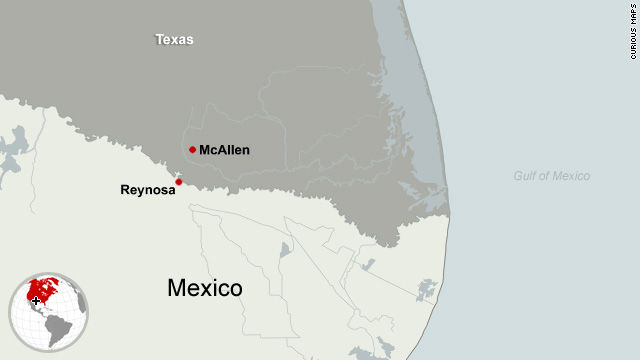 STORY HIGHLIGHTS
Reynosa, across the border from McAllen, Texas, has seen rise in drug-related violence
U.S. Consulate has closed its office there until further notice
It also advises Americans to carefully consider situation before going to Reynosa
Reynosa mayor says fighting is between two drug trafficking organizations
(CNN) -- The U.S. Consulate in the border city of Matamoros, Mexico, temporarily closed its Consular Agency in the nearby city of Reynosa because of heightened drug-related violence in recent days.
A "Warden Message" was issued by the consulate "to advise U.S. citizens of recent gun battles in Reynosa, Mexico, and cities surrounding Reynosa in the last week."
The mayor of Reynosa, located across the border from McAllen, Texas, told a Mexican newspaper that recent shootings have not been between authorities and drug cartels, but between two drug trafficking organizations operating in the region, the Gulf cartel, and the Zetas.
In response, the U.S. Consulate has restricted travel of American officials to Reynosa and closed its office there until further notice, the letter says.
"The Consulate General in Matamoros advises U.S. citizens to take the above information into consideration when making any decisions concerning traveling to or within Reynosa," the letter says.
Details of the confrontations and numbers of injured or killed are hard to come by, as local media often self-censor out of fear of retaliation.
According to local reports, gunmen in as many as 20 vehicles clashed with members of the Mexican military and municipal police in Ciudad Mier, just west of Reynosa, during a daytime gun battle Tuesday that reportedly resulted in the kidnapping of 10 municipal police officers.
Video from the scene showed abandoned police sport utility vehicles with bullet holes and broken windows. Shattered glass covered the street in the backdrop of palm trees. A damaged red truck with the insignia C.D.G. -- the Spanish acronym for the Gulf Cartel -- was shown being towed from the shooting scene.
Neither federal nor state officials would confirm or deny the reports of the gunfight in telephone calls from CNN.
A state attorney general's office spokesman in Tamaulipas, the state where Reynosa is located, did not confirm any shootings in or around the city but said that many of the reports were unsubstantiated.
"All this is a wave of rumors," Ruben Dario Rios told CNN.
On a tour of the border cities, Tamaulipas Gov. Eugenio Hernandez Flores acknowledged the rumors but sought to reassure residents that the government was committed to controlling the drug cartel violence.

CNN's Maggie Mazzetti and Nick Valencia contributed to this report.