Colombian president can't run for third term, high court rules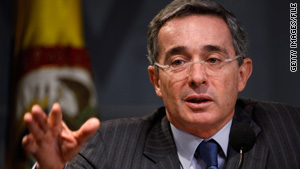 President Alvaro Uribe lost a bid that would have allowed him to run for a third consecutive term.
STORY HIGHLIGHTS
By a 7-2 majority, the judges ruled the proposed referendum "inexecutable"
Members of the Citizens Alliance celebrated the announcement
President Alvaro Uribe will address the nation Friday
Bogota, Colombia (CNN) -- The Colombian Constitutional Court ruled Friday against holding a referendum that could have cleared the way for President Alvaro Uribe to run for a third consecutive term.
By a 7-2 majority, the judges ruled the proposed referendum "inexecutable," said Mauricio Gonzalez, president of the court. Uribe was to address the nation later Friday.
The announcement, made in Bogota at the Palace of Justice, was met with celebration, music and whistles from members of the Citizens Alliance, which had opposed a third term for the president.
"It's a total celebration," said one reveler. "We're inviting everyone to join us."
"The constitution lives!" said one demonstrator's sign. "Long live the Constitutional Court!"
"We Liberals feel proud of our institutions, which come out strengthened by this process," said Rafael Pardo, presidential candidate from the Liberal Party.
Uribe retains high approval ratings.
Speaking from the northern city of Barranquilla, Uribe credited his efforts with reducing the incidents of narcotrafficking and violence in the country and bettering the business environment. He said he hopes the country's democracy improves.
"The only feeling that I have is a love for Colombia," the 57-year-old Harvard-trained lawyer said. "I hope that in the years of life that remain to me, I will always feel more love for Colombia."
Friday's decision struck down a measure passed last year by a vote of 85-5 by the House of Representatives that would have allowed Colombians to vote on a referendum on whether a president can serve three consecutive terms.
The Senate had passed a similar bill.
Uribe, a conservative, was elected in 2002 to a single four-year term allowed by the 1991 constitution. A constitutional amendment in 2005 allowed him to run for a second term in May 2006.