Web sites, social networks blast out earthquake, tsunami information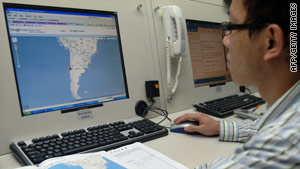 A meteorologist in Taiwan monitors the tsunami situation after Chile's earthquake Saturday.
(CNN) -- Moments after Saturday morning's earthquake in Chile, the Internet and its social networks came alive with earthquake and tsunami information.
Twitter users following #Chile and #tsunami directed one another to media and government sites with helpful information and guidance, as well as the usual rumors, lies and folklore.
Here is a sampling of what could be found:
The National Oceanic and Atmospheric Administration's Pacific Tsunami Warning Center is issuing regular updates. It includes estimated arrival times for numerous countries around the Pacific Rim. Click on the pink box near the top of the page. You must refresh the landing page to get later updates.
Tsunami information also is available from UNESCO.
Guidelines for creating a disaster preparation kit, streamed video reports via UStream and a live Twitter feed are at http://hitsunami.info/.

Video: Tweeting during the quake
"Safeway is beginning to run out of bottled water. LINES all the way through the store to check out. GAS LINE AT 7-11 blocks n blocks long," Twitter user Kelly Mitchell in Honolulu, Hawaii, reported at 5 a.m. (10 a.m. ET).
An hour earlier, she posted: "We will head to higher ground. We live on the ocean so we aren't safe at home."
The city and county of Honolulu has links to evacuation maps for the island of Oahu. Links to maps for all the islands are at http://hitsunami.info/.
The Chilean Red Cross is on Twitter @CruzRojainforma. A translation site is available.
To ask for or provide information about U.S. citizens in Chile, contact @dipnote on Twitter or at 1-888-407-4747, the U.S. Red Cross says.
Numerous links to Chilean media, in Spanish and English, are at this site.