STORY HIGHLIGHTS
CNN's Soledad O'Brien and Rose Arce visit Concepcion, Chile, to survey the damage
Looters are finishing up what the 8.8-magnitude earthquake started
Chilean: "There is a certain lawlessness in this country that the government enabled"
Amid the looting, rescue efforts continue; results of search often turn to grief
Concepcion, Chile (CNN) -- The drive into Concepcion couldn't have been more dramatic. We turned the corner through a dense morning fog onto a main street and a small crowd moved into the streets against traffic. It's just two days after an 8.8-magnitude earthquake toppled walls and collapsed buildings, but people are looting.
Young men ducked beneath gates and smashed windows, yanking out boxes holding appliances and grabbing cell phones and clothes. Grown women slid between window bars and ran down streets with bags full of booty.
A large green military truck with a hose bore down on the crowd using pressurized water to deter the crowd, but soldiers patrolling with big guns did nothing to stop looters on the streets. The looting was so out of control at La Flor clothing store that a fire broke out, and clouds of black smoke filled the sky. The firefighters couldn't even fight the fire because they were too busy with the search and rescue operation.
At a mall, a lone soldier let us in to see the damage.
Full coverage of earthquake in Chile
It was hard to tell where the earthquake stopped and the looting began. The glass was smashed, and the gate bent. There was nothing left in the Kodak stores, nothing in the key store. We saw just emptiness and garbage on the first and second floors. The manager of the Hiper Lider, a grocery store, said the military came to take supplies to distribute, but nothing was left. He asked his staff to come in to take out computers and paperwork, but even that was a mess.
On the block across from the mall, Jorge Montoya and his neighbors had stacked tires and bricks across their street as a line of defense.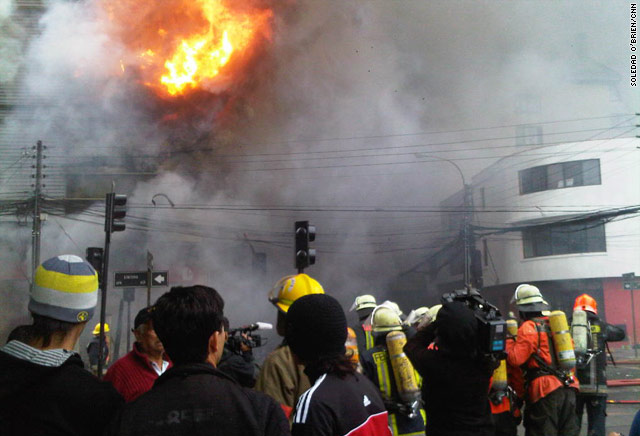 Gallery: Chile earhtquake - Monday
"There is a certain lawlessness in this country that the government enabled," he said in Spanish. "They don't protect people, and people don't respect them, and criminal elements get out of control. People also have a high sense of entitlement. They expected the government to have water and power and things under control."
A woman jumped in next to him and started shouting: "It's a lie. The government didn't do a thing, and now people are taking things into their own hands."
A pair of men nearby had taken food and water from a store but rejected the notion they are thieves.
They said they're simply taking what they need in a time of crisis, and the military is to blame for not providing more help. Montoya did say it's shameful that people are stealing even as a small army of search-and-rescue teams try to free 48 people, some living but many likely dead, from Alto Rio apartments across from the looted supermarket.
Concepcion firefighter Gonzalo Rudolphy said the structure sat on two floors of parking lot, so the 15 floors fell hard onto one side.
"[What are] the chances people are still alive?" we asked. He showed us a model of the building and the area of the balconies that slammed onto the ground. His crews sliced big triangles through concrete and let in search dogs. "I just don't know," he said quietly.
Missing was Jose Luis Leon, a maintenance worker for the railroad who had just moved into his new luxury apartment. His friends huddled together crying and hoping he might still be alive.
"He was 24. The building was all young people, young families, a lot of babies. Most of the buildings did not suffer any damage, and this one fell entirely down," said Vladamir Rodriguez, Leon's close friend.
Two hours later, they handed his family a plastic garbage bag with his clothes and the weeping began. At least 60 people escaped the collapse in the first hour, but no one has been found alive since then. A child's guitar came out next and was handed over to his crying family. Into the night, as shots rang out nearby, the search continued.
iReport: Are you there? | In Spanish
The building has split at the bottom and toppled over on its side. You can see the numbers -- 1 to 15 -- spray painted to mark the floors.
On a chart posted on a wall, rescue workers recorded numbers even more grim: 48 missing and below that number an accounting of those they suspect are living or dead, floor by floor. On their boxes of rescue equipment, the label "Haiti Earthquake" reminded the searchers of their last assignment.
The looters kept at it even as the slight body of a woman emerged from one side.
As night fell and a curfew emptied the streets, an entire family had camped outside their home as a deterrent to thieves. They do not want to go inside because they are afraid of aftershocks, and the roof is unstable. They do not want to be outside because they fear the thieves.
They opt for sleeping on cardboard under the opening of their garage. A light, cold drizzle has begun to fall through the fog, and a small fire is heating an evening tea.
"How can people loot when there are people hurt and killed in an earthquake?" we ask. "When people get frustrated, they sometimes fall out of balance," she said.
As night fell, it became very cold even though this is late summer in the Southern Hemisphere.
The air is humid, the night dark, the moon hidden by thick clouds, fog and smoke from a fire that continues to burn. There is no gas, water or electricity in this town. There is no food to be had.
The curfew has locked people in but occasional gunshots can be heard nearby. There have been enough aftershocks that people continue to be fearful and sleep on the streets.
The only visible lights come from a camp of journalists from all over the world who sit by the rail yards watching the search and rescue teams dig through rubble.