Lights back on in Chile after huge blackout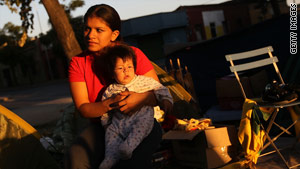 Many Santiago residents such as Victoria Paredes and her baby, Brack, are in makeshift homes after the quake.
STORY HIGHLIGHTS
Power restored about 1 a.m., utility official says
Energy Minister Ricardo Rainieri says officials seeing if action against utility warranted
Andrade: Nothing is certain because of difficulties caused by quake, aftershocks
Santiago, Chile (CNN) -- Electricity was restored Monday to all of Chile after an overheated transformer caused a blackout Sunday over 90 percent of the country, an official with Chile's largest electric company told CNN's partner network in the country.
Power was restored about 1 a.m., said Eduardo Andrade, vice president of Transelec.
The blackout came two weeks after a massive 8.8-magnitude earthquake struck Chile, killing more than 500 people. Aftershocks as high as magnitude 7.2 continue to hinder recovery efforts.
"The transformer that failed is isolated, and we are installing a reserve unit," Andrade told CNN Chile. "The possibility that there will be another blackout like last night's is very remote."
Still, Andrade said, nothing is certain because of the difficulties caused by the earthquake and its aftershocks.
The system is very fragile. Let's not forget there was an earthquake.
--Eduardo Andrade, vice president of Transelec
"The system is very fragile. Let's not forget there was an earthquake, and there are elements that could still fail," he said.
Utility officials are doing further reviews, Andrade said, adding that any new failures would be with minor equipment and would not lead to another widespread blackout such as the one that occurred Sunday.
Energy Minister Ricardo Rainieri reiterated the difficulties caused by the earthquake but said officials are looking to see whether action against the utility company is warranted.
"We are studying what happened, and after the investigation made by the superintendent of gas and combustibles, it will be determined whether fines must be levied," Rainieri told CNN Chile. "After the earthquake, we lost much security in the electric network. The backups have failed, and it will take some time to re-establish the levels of service we had before the earthquake."
Rainieri called on citizens to be mindful of their electricity use.
Aftershocks continued to rock Chile, with four occurring in the past 24 hours, according to the U.S. Geological Survey. The strongest of those, 6.0 magnitude, occurred at 8:08 a.m. (7:08 a.m. ET) about 65 miles (105 km) northwest of Concepcion, one of the hardest-hit areas in the February 27 quake. There were no immediate reports of damage or injuries.