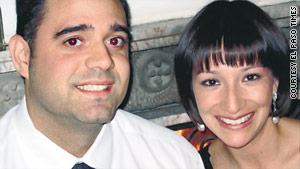 Arthur Redelfs and Lesley Enriquez lived in El Paso, Texas.
STORY HIGHLIGHTS
Couple slain by drug gang while heading home from birthday party, authorities say
Lesley Enriquez, Arthur Redelfs lived in El Paso, Texas, where he was a jailer
Friends express grief about deaths in Facebook posts
(CNN) -- Lesley Enriquez went to a birthday party and brought her husband and baby daughter along. After the food and cake and singing and children's games were done, the family piled into the car and headed home.
They never made it.
As Enriquez's husband, Arthur Redelfs, pulled away from the U.S. Consulate in Ciudad Juárez, Mexico, where the party took place Saturday, a car full of gang members fell in behind them, authorities said.
For unknown reasons, the gang followed the family car through the streets and riddled it with bullets, authorities said. When it was over, 35-year-old Enriquez and Redelfs, who was 34, were dead. Their orphaned daughter was unhurt but terrified in her car seat in back, authorities said.
Enriquez, an employee at the busy consulate, had been four months pregnant.
"Can't wait to go to bed," she had posted with multiple exclamation points on her Facebook page in January. "Between Sweet Pea and our little one on the way I'm getting extremely tired!!!"

Video: Two Americans killed in Mexico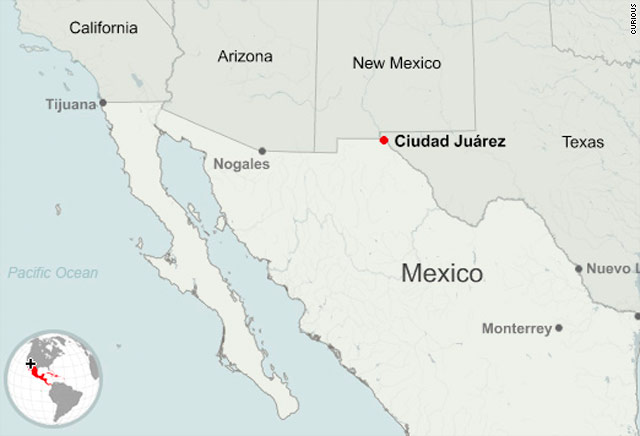 3 associated with U.S. consulate killed
The family lived in El Paso, Texas, just across the Rio Grande from Ciudad Juárez. Witnesses said Redelfs, a detention officer for the El Paso County Sheriff's Department, appeared to have made a run for one of the bridges back to the safety of the United States but couldn't outrun the gang.
"They were innocent victims of the escalating violence in Juárez," Ruben Redelfs, Arthur Redelfs' brother, said, according to the El Paso Times newspaper.
"Both my brother and his wife had unblemished records where they worked and were not involved in anything wrong whatsoever. They will be deeply missed."
The killings were carried out by a local gang known as Los Aztecas, which is allied with the Juárez Cartel, Juárez Mayor Jose Reyes Ferriz said Monday. No arrests have been made.
Juárez is on the front lines in Mexico's war against the drug cartels that operate in its territory. More than 2,600 people were killed in the city in 2009.
The family's white Toyota SUV was similar in appearance to a white Honda SUV that also was attacked after leaving the same birthday party, officials said.
Jorge Alberto Salcido Ceniceros, the husband of another consulate employee, was killed in that attack, and their two children in the back seat were wounded. Salcido's wife was traveling in another vehicle and was unharmed, officials said.
Reyes said the attackers clearly targeted consulate employees, but it wasn't clear why.
By Tuesday morning, several people in Arthur Redelfs' and Lesley Enriquez's Facebook network had taken down their own profile pictures and replaced them with the victims' photo.
One of Redelfs' Facebook friends wrote, "R.I.P. Art Redelfs. An amazing person through and through. I remember your kindness when I was obnoxious; it made a huge difference in my life."
One of Enriquez's Facebook connections wrote in Spanish, "Lesley dear cousin, rest in peace and may your death serve justice in this country, not more violence!!"
FOLLOW THIS TOPIC