10 people, ages 8-21, shot dead in Mexico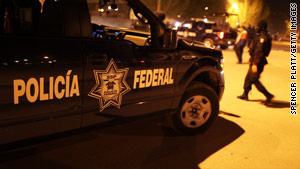 Mexican police are investigating the killing of 10 young people, between the ages of 8 and 21, in Pueblo Nuevo, Mexico.
STORY HIGHLIGHTS
Unknown gunmen set up a fake checkpoint on the road
Gunmen shot and threw grenades at victims
Victims were returning to their homes after picking up money for their school
(CNN) -- Ten children, youths and young adults between the ages of 8 and 21 were gunned down, presumably by drug traffickers, in the northern Mexican state of Durango, the state's attorney general said Monday.
The incident happened Sunday on a road near the town of Pueblo Nuevo in southern Durango.
Attorney General Daniel Garcia Leal said that unknown gunmen who had set up a fake checkpoint on the road shot and even threw grenades at the victims, the state-run Notimex news agency reported.
The victims were in a pickup truck, returning to their homes after having traveled to pick up money to support their school as part of a government social program, Garcia Leal said.
The gunmen motioned the truck to stop but the victims, out of fear of being robbed or assaulted, did not comply, the attorney general said.
No arrests had been made in the incident, which is the latest in which children have found themselves caught in the middle of the country's violent drug wars.
In January, in a case of mistaken identity, 15 people, mostly teenagers, were killed when gunmen attacked a house party in Ciudad Juarez, Mexico.