STORY HIGHLIGHTS
NEW: Mexican President Felipe Calderon goes to Mexicali to examine the damage
Governor of Baja California says four shelters opened in Mexicali
Utilities work to restore power, engineers check buildings after quake
Two people killed in Baja California; 233 injuries reported
Mexicali, Mexico (CNN) -- The governor of the Mexican state of Baja California said Monday he is asking the federal government for a natural disaster declaration after a 7.2-magnitude earthquake shook the region.
The border city of Mexicali, the capital of Baja California, was the hardest hit by Sunday's quake, the U.S. Geological Survey reported.
Two people died, and 233 injuries were reported, Gov. Jose Guadalupe Osuna said, according to the state-run Notimex news agency. Doctors in Mexicali told CNN that between five and 10 people were in critical condition.
On Monday, authorities examined the damage in Mexicali. Electricity was restored in some parts of the city, and most structures were standing, though the cleanup appeared to be daunting. Glass and other debris were strewn around the city.
Mexican President Felipe Calderon traveled to Mexicali on Monday to examine the damage first-hand.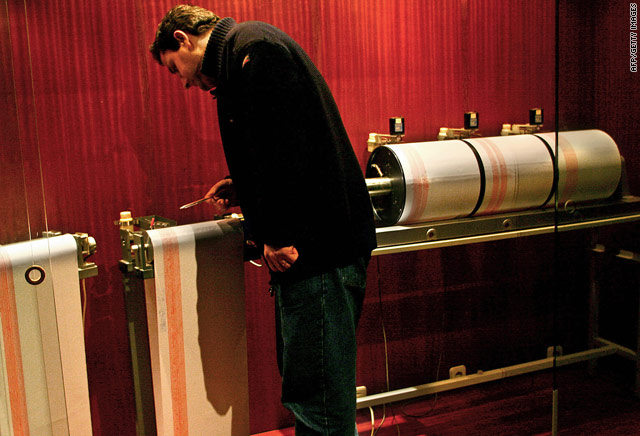 Quake magnitudes: What do they mean?

Video: Quake shakes water from pool

Video: 'We live in earthquake country'

Video: Video shows store rattled by quake
Unlike the recent earthquakes in Haiti and Chile, there were no reports of people trapped underneath rubble.
The city's hospital was also damaged, so doctors were seeing patients in the parking lot.
Kate Hutton, a seismologist at the California Institute of Technology, said aftershocks in the magnitude 4 to 5 range are likely to continue for about a week. The chances of a quake as big as Sunday's has dropped to less than 1 percent, she told reporters Monday afternoon.
"The good news is that aftershocks do become less frequent with time, so after a week or two, they won't be feeling earthquakes every night or day and it will be only an occasional jolt," Hutton said.
Because the earthquake was only 6 miles deep, it created fissures in the earth. One witness told CNN that the earth opened up and that water poured out.
iReport: Did you feel the quake? Share photos and video
The quake struck at 3:40 p.m. Sunday (6:40 p.m. ET) about 110 miles east-southeast of Tijuana, Mexico, according to the U.S. Geological Survey.
Pictures from Mexicali showed sides ripped off buildings, telephone poles toppled, roads cracked and supermarket aisles strewn with food that had fallen off shelves.
iReport.com: Water splashes out of San Diego, California, pool
Osuna said there was severe damage to some agricultural infrastructure that affected wheat crops, Notimex reported.
"A pair of canals that irrigate almost 60,000 hectares [148,000 acres] in the Mexicali valley were damaged," Osuna said. Mexico's National Water Commission was working to redirect water into the canals.
Authorities opened four shelters in the city for families, he said.
There also were reports of landslides onto some highways, he said.
In televised remarks, the governor asked the public to be calm and follow any directives from the state's civil protection service.
Residents across Southern California and Arizona reported serious ground shakes Sunday, but there were no immediate reports of injuries there and only limited reports of damages.
"We have not felt a shake like that since about 1979," Michelle Tapia told CNN from Brawley, California, about 23 miles north of the Mexican border.
iReport.com: Damage in a bookstore in Palm Desert, California
The quake was the largest in Baja California and Southern California since 1992, the USGS said.
The 1992 quake, which struck in Landers, California, triggered an earthquake the next day in Nevada and another quake 11 days later in Southern California, according to USGS seismologist Lucy Jones. Both were 5.7 magnitude quakes.

CNN's Ted Rowlands, Nick Valencia, Paul Vercammen and Dan Gilgoff contributed to this report.