Haiti quake victims to receive knock-off goods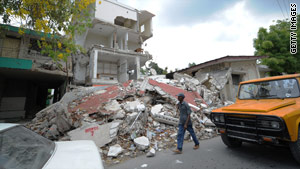 A man walks past the rubble of a health center in Port-au-Prince, Haiti, on Monday.
STORY HIGHLIGHTS
Fake designer clothes seized by New York authorities will go to Haiti earthquake victims

More than 1 million left homeless after January quake

Labels, logos will be removed to avoid trademark issues

(CNN) -- At times, counterfeiting can be a good thing. Just ask the district attorney in Brooklyn, New York.
Seven truckloads of confiscated counterfeit designer duds and shoes -- Ed Hardy, Nike and Diesel among the imitation brands -- are headed to earthquake victims in Haiti.
The 125,000 tons of clothing and shoes, valued at $10 million, were seized by New York police and would normally be destroyed, but in this case, the contraband will go to good use.
"Permission was obtained from manufacturers, including Nike, Timberland, Antik Denim Jeans, Black Label and Christian Audigier, to allow the knockoffs to be donated to charity," Kings County District Attorney Charles J. Hynes told CNN affiliate WPIX.
Hynes' office came up the idea. It was decided the goods, warehoused for a while, would come to better use in Haiti.
The powerful January 12 earthquake rendered more than 1 million people homeless in the Caribbean nation. Many are eking out a meager existence, living in tents and underneath tarps.
The international charity World Vision has agreed to deliver the items donated by the Brooklyn authorities.
But there's one catch: All brand identifiers like labels and logos will be removed in order to avoid trademark issues.
That left one New York blogger to ponder this, given one manufacturer's penchant for outsized patterns and designs: What would even remain of a faux Ed Hardy shirt?