Volcano's eruption spurs evacuations, closes airport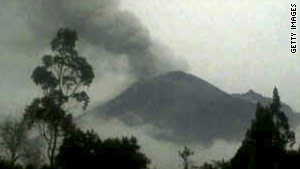 Picture released by Ecuadorean Army of the Tungurahua volcano as it is seen erupting.
STORY HIGHLIGHTS
NEW: Guayaquil Airport closed until Saturday afternoon
Emergency agency: No deaths, injuries reported, no more evacuations planned
Tungurahua volcano has erupted periodically since 1999
(CNN) -- Lava and ash from Ecuador's Tungurahua volcano forced the closure of Guayaquil Airport until Saturday afternoon, an airport spokesman said Friday.
The glacier-capped, 16,478-foot (5,023-meter) volcano has erupted periodically since 1999, with major eruptions occurring in August 2006 and February 2008, the government's emergency management agency said.
Officials evacuated the towns of Cusua and Juive Grande in central Ecuador, the emergency agency said, but no injuries or fatalities had been reported. No further evacuations were planned, the agency said.
Death toll climbs from Guatemala eruption
The eruption sent a large ash cloud into the air, the Geophysical Institute of Peru said. The height could not be determined because of cloudiness in the area.
Are you in Ecuador? Share your volcanic activity images

Video: Journalist killed while covering volcano
Before the long-term eruption beginning in 1999 that caused the temporary evacuation of the city of Banos at the foot of the volcano, the last major eruption had occurred from 1916 to 1918, and minor activity continued until 1925, the Smithsonian Institution said on its volcano Web site.
The volcano is 87 miles (140 km) south of Quito, the nation's capital.
Tungurahua means "throat of fire" in the native Quechua language.
It was the second volcanic eruption reported in Latin America in the past few days. The Pacaya volcano erupted Thursday in Guatemala, killing at least three people.