Honduran president warns of new coup plot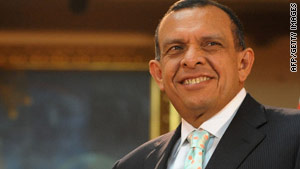 Honduran President Porfirio Lobo says political opponents are plotting a new coup.
STORY HIGHLIGHTS
NEW: President Porfirio Lobo tells government officials to remain neutral
He says he knows who plotters are and warns them not to try a coup
"I believe they have made a mistake with me," Lobo says
President Jose Manuel Zelaya was removed in June 28 coup
(CNN) -- Less than a year after his predecessor was removed from power in a military-led coup, Honduran President Porfirio Lobo says he has found out that some political opponents want to overthrow him, a statement from the president's office reported.
Lobo said Tuesday he knew the names of those who are plotting against him and warned them not to try a coup.
Asked by reporters if he is behind a movement to replace the Supreme Court president, Lobo said, "It's the president of the republic they want to get rid of. But they're going to tangle with me. Never should we forget that for every action there's a reaction. I tell you, we have everything well tracked. We have located all of them. I know who they are. I have all the information, and I believe they have made a mistake with me."
Former President Jose Manuel Zelaya was overthrown in a military-led coup June 28 and flown into exile. He snuck back into Honduras in September and obtained refuge in the Brazilian Embassy, where he remained until Lobo took office in January.
Lobo arranged for Zelaya to get safe passage to the Dominican Republic, where the former leader still resides.
Lobo said recently that he would guarantee Zelaya's safety if he returned to Honduras, but Zelaya declined. He is charged in Honduras with crimes related to his time in office. Zelaya says they are trumped-up political charges.
Lobo's offer to Zelaya has angered some supporters of former Interim President Roberto Micheletti, who was named to office after Zelaya's ouster.
Lobo told Cabinet ministers, other government officials and members of the military and police to remain under his control and to remain neutral as political groups oppose each other, Tuesday's presidential statement said.
He also warned those political groups that they are free to protest and exercise their rights, but they must do so within the law.
"The order is clear," Lobo said. "We are not going to permit the taking of public buildings nor the taking of roads and other public byways. This is a mandate they have because no one has the right to take away rights from other people. The same goes for schools and colleges."
FOLLOW THIS TOPIC