Coca cultivation falls in Colombia, rises in Peru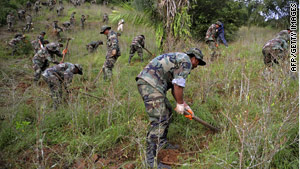 Bolivian soldiers destroy a coca plantation north of La Paz, Bolivia, on March 11.
STORY HIGHLIGHTS
Peru is poised to overtake Colombia as top coca producer
Coca cultivation and cocaine production decreased in Colombia
Peru sees increase in coca cultivation
(CNN) -- If current trends continue, Peru is poised to overtake Colombia as the world's top producer of coca, the plant used in the production of cocaine, according to a United Nations report released Tuesday.
The U.N. Office on Drugs and Crime's coca crop surveys for Bolivia, Colombia and Peru showed a 5 percent drop in the amount of coca being grown in the Andean countries, but Peru bucked the trend with a significant increase.
In Colombia, long the leader in cocaine production, cultivation of coca fell by 16 percent to 68,000 hectares, compared to the year before, the U.N. agency said. In the past 10 years, the decline is even greater, a 60 percent decrease, the report said.
In total, the report estimated that 410 metric tons of cocaine were produced in Colombia in 2009, a 9 percent decrease from 2008.
"The drug control policy adopted by the Colombian government over the past few years -- combining security and development -- is paying off," UNODC Executive Director Antonio Maria Costa said in a statement.
Part of the reason for the decrease in cultivation in Colombia is that growing the coca bush has become less profitable. According to UNODC, coca farmers in Colombia earn barely more than $1 a day.
In the Andean region as a whole, the amount of coca bush being grown fell from 167,000 hectares in 2008 to 158,000 hectares in 2009.
In Peru, however, coca cultivation increased 6.8 percent from 2008 to 59,900 hectares in 2009. According to UNODC, Peru has had a 55 percent increase in coca cultivation in the past 10 years.
"If the current trend continues, Peru will soon overtake Colombia as the world's biggest coca producer -- a notorious status that it has not had since the mid-1990s," Costa said.
"There are limits to what the Andean governments can do if people keep snorting cocaine," Costa said. "It is therefore up to governments in coke-consuming countries -- mostly in Europe and North America -- to take their share of responsibility and reduce demand for cocaine," Costa said.
FOLLOW THIS TOPIC