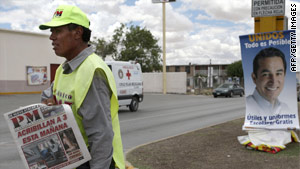 A campaign poster for Chihuahua gubernatorial candidate Carlos Borruel hangs along a Juarez street.
STORY HIGHLIGHTS
Juarez remains one of the deadliest cities in Mexico
The drug violence casts a shadow over Sunday's elections
Last month, an area mayor was assassinated
Cartels have divided up territory ahead of the vote
(CNN) -- Elections usually can be counted on to bring change, but in Ciudad Juarez, Mexico, there is one constant that a trip to the ballot box seems unlikely to alter.
The influence of the drug cartels and their violent actions cast a large shadow over Mexico's Sunday elections, in which 12 governors and dozens of local officials will be elected. In Juarez, that shadow may be darker than in other places.
The leading candidate for mayor himself has faced threats, as has the outgoing mayor. Politics and violence there have become inextricably linked.
Drug traffickers have their haven in the Valle de Juarez, a rural area of dusty roads just outside city limits, locals say. Scores of residents have fled to Juarez, even though it remains one of the country's most dangerous cities. The migration is a sign of how drug cartel violence affects the community.
Last month, a mayor in that valley region was targeted by assassins and killed in front of his home while his family watched.
The narco influence on the community also flows through the town's children, who play a version of cops and robbers, but in their version, "la policia" are the bad guys, Juarez Municipal Police spokesman Jacinto Seguro said.
Children as young as 7 act as lookouts for cartels, getting paid as much as $40 a week to be a "halcon," or hawk, according to documents from the Chihuahua State Attorney General's Office.
The cartels have displayed their presence in other ways. Residents of Juarez say they are terrorized every day. Murders are expected. Mass killings have become common.
In the runup to Sunday's elections, the cartels battled to further position themselves geographically, dividing up land and bartering territory before voting begins and a new mayor is elected.
"A shift in power [in the mayor's office] means a change to the way the cartels operate," said Edgar Roman, the news director of local Juarez Channel 44.
Trafficking routes in Juarez have been split, with one cartel navigating east to west and another taking control of operations from north to south, law enforcement sources said. A local police spokesman confirmed the split but could not say which cartel was in charge of which route. Others in local government say they have not heard of such a deal.
Roman says cartels are playing politics behind the scenes before Chihuahua state elections.
The mayoral candidate for the Institutional Revolutionary Party, or PRI, Hector "Teto" Murguia, is the favorite to win. Murguia was mayor of Juarez between 2004 and 2007. But even he can't shake the shadow of the drug cartels.
In 2008, Murguia's former chief of police was arrested in El Paso, Texas, on marijuana-smuggling charges. Other attacks on Murguia's character included reports in the local media claiming that his personal wealth swelled just before he left office. The reports created rumors among his critics that he had been paid off by the Juarez cartel in a deal over land. He denies all accusations and has never been charged.
Under electoral law, candidates are not allowed to talk about their campaigns until after polls close Sunday. Murguia's campaign manager, Mario Boisselier, was emphatic about his candidate's innocence.
The former mayor appeared headed for a landslide victory, according to recent polls.
Nevertheless, Murguia will inherit a city in chaos, with poverty evident and record-high violence. It was a city he handed over right before the violence took off and the Mexican military moved in.
The current local government acknowledges that it has had dialogue with the street gangs in Juarez. In March, a government source said, Juarez was negotiating a cease-fire agreement between the Mexicles, the Artist Assassins and the Aztecas, the three local gangs that work for the two warring cartels in Juarez.
During the talks, the violence was down to close to five killings a day. But the brief respite from the bloodshed expired as talks dissolved.
FOLLOW THIS TOPIC