Brotherly spat reaches Ecuador's presidency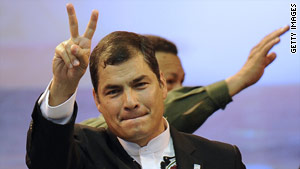 President Rafael Correa (front) and his Venezuelan counterpart Hugo Chavez (behind) wave on June 25, 2010, in Otavalo, Ecuador.
STORY HIGHLIGHTS
The brother of Ecuador's president called the leader corrupt
A rift stemming from the cancellation of a government contract is the cause
Fabricio Correa says his brother's government wanted a bribe
He is forming a political party to challenge Rafael Correa
(CNN) -- Fabricio Correa, brother of Ecuadorian President Rafael Correa, called the president corrupt and said he has formed a political party that will challenge his brother, he told CNN en Español.
"There is a band that operates from the presidency, widely known, that acts with impunity thanks to the nation's attorney general," Fabricio Correa said.
The high-level spat between the brothers stems from the cancellation of government contracts with Cosurca, a company linked with Fabricio Correa's business interests. Rafael Correa canceled the contracts because he called his brother's involvement in the contracts unethical.
But Fabricio Correa contends that the contracts were terminated because Cosurca refused to pay a $1.5 million bribe to the government.
"The one who has betrayed the citizen's revolution is Rafael himself," Fabricio said.
Asked if he thought President Correa was part of the corruption, Fabricio said, "Unfortunately, I have to say that yes."
The rift has turned Fabricio Correa into a leading opposition figure.
His next step, Fabricio Correa said, is to turn his followers into a serious political movement. He did not rule out being the presidential candidate for that movement.
FOLLOW THIS TOPIC