Hundreds of penguins wash up on Brazilian coast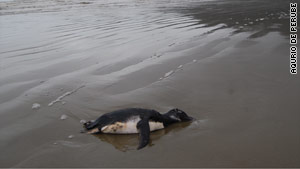 Unusually cold seas may have displaced the penguins' food sources, scientists say.
STORY HIGHLIGHTS
Cold waters are suspected to be the cause of 556 bird deaths in the past 10 days
It's not unusual for penguins to show up, but they're usually alive, biologist says
Starvation is blamed for the deaths, and the cold may have driven away food sources
(CNN) -- Biologists suspect that unusually cold waters off the coast of Brazil were responsible for the deaths of more than 550 penguins that washed up on shore in the past 10 days.
Since July 11, about 556 dead penguins have appeared on beaches, Thiago do Nascimento, a biologist at the Peruibe Aquarium, told CNN.
At the beach of Praia Grande alone, on the Sao Paulo coast, more than 170 penguins have washed up on shore since Friday, according to the local government.
It is not unusual for penguins to show up on the Brazilian coast during their migration, but most of the time, they are alive, said another biologist, Isabelle Nunes.
Necropsies performed on many of the penguins show that they had no food in their stomachs and probably starved to death, Nascimento said, adding that cold weather probably contributed to their deaths.

Video: Penguins stranded on Rio beach
Nunes said it is possible that the cold waters, brought on by a regional cold front, made the fish that the penguins eat seek other waters.
More tests are being conducted, Nunes said.
Farther north, on the famous beaches of Rio de Janeiro, penguin appearances and rescues have become common in recent years.
It's normal for Magellan penguins to leave their colonies in the Antarctic in an annual migration in search of fish, following the plankton-rich, frigid water currents traveling north along the coast of South America. What has changed is that they are increasingly unable to return home because they get sick, weak or disoriented for reasons that have yet to be determined.
Climate change, overfishing and pollution of the water all could contribute to the penguins becoming lost.
The Niteroi Zoo, near Rio de Janeiro, first began receiving penguins for rescue in 1999. Since then, they have received an increasing number of the birds, peaking with 1,000 penguins in 2008.
CNN's Rafael Romo contributed to this report.
FOLLOW THIS TOPIC