Venezuela breaks relations with Colombia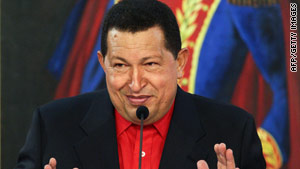 Venezuela President Hugo Chavez said his Colombian counterpart, Alvaro Uribe, is "crazed."
STORY HIGHLIGHTS
Hugo Chavez says relations with Colombia are totally broken
Colombia accuses Venzuela of protecting rebels
Chavez calls President Alvaro Uribe "crazed"
He said he hopes for better relations with Colombia's next president
(CNN) -- Venezuelan President Hugo Chavez said Thursday that he is breaking off relations with Colombia. His decision comes as the Organization of American States meets to discuss Colombian claims that Venezuela is protecting FARC and ELN rebels in its territory.
The move is the biggest escalation in a year of simmering tensions between the two countries and their presidents.
Chavez said that under President Alvaro Uribe, Colombia has isolated itself and become "aggressive and violent."
He called Uribe "crazed" and accused the United States of using Uribe as a puppet.

Video: Colombia vs. Venezuela

Video: Diplomatic split
Uribe is in the final month of a presidency that has had many tensions with neighboring Venezuela, mostly over accusations that rebels from the Revolutionary Armed Forces of Colombia (also known as FARC) and National Liberation Army (ELN) have camps in Venezuela.
Chavez said he hoped for better relations with Colombian President-elect Juan Manuel Santos, who was Uribe's defense minister and whose election was viewed as an affirmation of Uribe's policies.

Video: Venezuela splits with Colombia
The Venezuelan leader spoke from his presidential palace, where he was holding a news conference with Argentine soccer coach Diego Maradona. Maradona's visit was unrelated to the spat with Colombia.
Venezuela recalled its ambassador to Colombia on Friday in reaction to the accusations of protecting rebels.
Uribe is a two-term president who has received high approval ratings for his tough stand against FARC guerrillas, who have been waging war against the government for decades.
Colombia has accused Chavez of supporting the rebels, and Chavez has said Colombian officials and right-wing paramilitary units have plotted his assassination.
Security analysts say FARC guerrillas operate mostly in Colombia but have carried out extortion, kidnappings and other activities in Venezuela, Panama and Ecuador.
FARC is said to traffic in cocaine to finance its insurgency.
Colombia has also accused another neighbor, Ecuador, of giving refuge to rebels. In 2008, Colombia carried out a raid in Ecuadorian territory that resulted in the killing of a top FARC leader.
Thursday was not the first time Chavez cut off diplomatic ties with Colombia.
A year ago, Chavez "froze" the nations' relationship over Colombian accusations that Venezuelan weapons had made it into the hands of rebels.
Colombia said it had evidence that shoulder-fired anti-tank weapons recovered from FARC guerrillas were of Venezuelan origin. Venezuela denied the allegations and said the rebels may have stolen the weapons from a Venezuelan base.