STORY HIGHLIGHTS
NEW: The miners shared tuna and mackerel
NEW: The area where they are trapped is about 538 square feet
Thirty-three miners have been trapped since August 5
Authorities say it could take months to rescue them
(CNN) -- The 33 miners trapped inside a mine in Chile survived for more than 17 days by sharing small amounts of tuna and mackerel that were in a shelter, along with water, President Sebastian Pinera told CNN en Espaņol on Monday.
"They had very little food," the president said, revealing new details about the conditions affecting the trapped miners. "They told us they ate tuna and mackerel every other day, and that they shared ... a jar of peaches among the 33."
A second probe reached the miners Monday, making a total of two devices that are capable of relaying communications, food and water between the trapped miners and those on the ground.
Using a video camera on one of the probes, Pinera said he saw the miners.
"I saw them jumping like children, with an infinite joy. They moved their arms, they turned on their flashlights," Pinera said.
The area where the miners find themselves is about 50 square meters (538 square feet), Pinera said.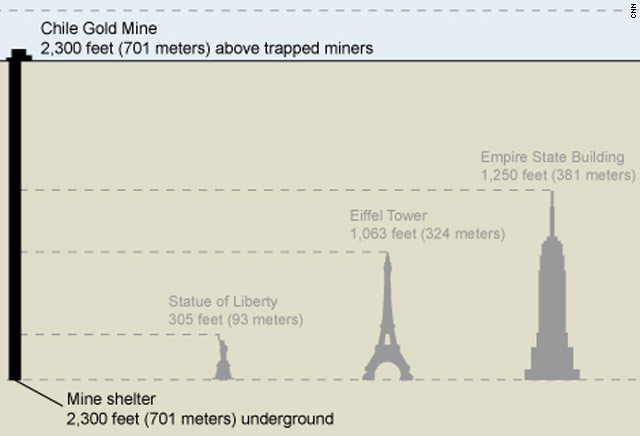 Chile miners: Depth perception

Video: Chilean miners send note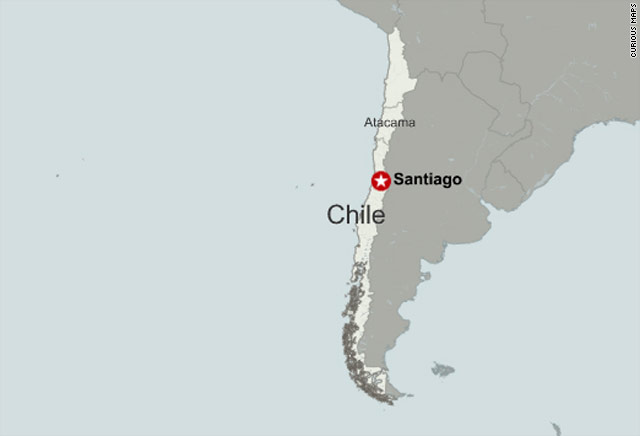 Miners trapped in Chile
He described the shelter as a type of cavern where they had access to an area called the "workshop," where they found batteries for light and water for consumption.
Pinera estimated the temperatures where the miners are hover between 32-35 degrees Celsius (90-95 degrees Fahrenheit).
Earlier Monday, national Mining Minister Laurence Golborne said that tubes packed with flashlights, water and oxygen would be sent to the trapped miners. It was unclear whether the supplies had been delivered yet.
Officials learned Sunday that the copper and gold miners had survived after an August 5 cave-in trapped them more than 2,300 feet underground.
It could take three months or more to rescue the workers, Pinera said.But the miners' health will take priority over rescue-and-removal efforts, Golborne said at a news conference at the disaster site in northern Chile.
Medical officials were sending water down to the miners and then will determine whether they are healthy enough to tolerate liquid nutrients, said Jorge Diaz, the doctor in charge of the medical aspects of the rescue.
"First, we are going to assure the workers' state of health," Diaz said at the news conference.
Psychological help also will be given to the trapped miners, he said.
Golborne reiterated Monday that those responsible for the cave-in will be prosecuted, a point also made a few minutes later at a separate event by Pinera.
"We will investigate and punish those who are responsible," he said.
Family members had cheered Sunday when Pinera held up a handwritten note pulled from the mine.
Written in Spanish in red ink, it said simply: "We are fine in the shelter, the 33 of us."
The note was tied to a probe authorities had lowered earlier Sunday.
Miner Mario Gomez also sent up a note to his wife, written on tattered loose-leaf paper, CNN Chile reported. He wrote: "Dear Lila, I am well, thank God. I hope to get out soon. Patience and faith. God is great. We are going to get out with God's help. Tell everyone that I am well."
His wife told CNN Chile the note confirmed what she had been saying as she kept vigil outside the mine for weeks.
"I know my husband is fine. I know he's alive. And I know he's keeping up all the others in the mine because that's the kind of person my husband is," she said.
It could take as long as four months to get them out, warned Andres Sougarret, who is in charge of rescue operations.
Rescuers will send microphones down soon in hopes of learning more about the miners' conditions, he said.
The supplies are being sent down to the miners in tubes that are about 4 inches (10 centimeters) wide, officials said.
Rescue workers probably will drill a larger shaft through which the trapped miners could escape.
The miners are thought to be 2,300 feet underground, CNN Chile said.
The shelter is deeper than the height of New York City's Empire State Building, which is 1,454 feet tall.
Because of the mine's depth, and the instability caused by the collapse, rescue workers will need to proceed with caution.
"It'll take time. But it's not important how long it takes. What's most important is that everything ends well," Pinera said Sunday.
The San Esteban mine is near the town of Copiapo in the Atacama region in northern Chile.
FOLLOW THIS TOPIC