STORY HIGHLIGHTS
NEW: The Chilean mining minister says the alternative plan might not work or be put into place
'Plan B' would widen the bore hole enough to pull the miners out from underground
The Chilean health minister says all of the miners appear to be fine
The rescue effort has been dubbed the "Saint Lorenzo Operation"
Copiapo, Chile (CNN) -- Engineers in Chile said on Saturday that they have come up with a "Plan B" that could halve the time it would take to rescue the 33 miners trapped underground since August 5, but the country's mining minister quickly cautioned against setting what he called unreasonable expectations.
Walter Herrera, quality control and risk manager for Chilean mining company GeoTech, said his company was bringing a specialized device -- a Scram T-130 drill, typically used for boring water holes -- to the San Jose mine. He told CNN the drill could be on site and working within five to six days.
Herrera added that the plan hinges on using one of the three bore holes, measuring 4 inches each in diameter, which has already been drilled and is being used to pass the miners supplies. The drill would use that bore hole as a pilot and simply widen the diameter to about 28 inches, which officials have said is wide enough for the miners to pass through.
"I don't want to put a time frame on this," Herrera said. "We think it could be quicker than the other plan. In ideal conditions, this could take around two months."
But later Saturday, Chilean Mining Minister Laurence Golborne told reporters that the alternative plan might not be put into operation and might not work even if it is implemented.
"We cannot let our expectations get beyond what is reasonable," said Golborne, who spoke outside the mine.
He added the new drill would be used initially to widen one of the 4-inch holes to around 12 inches in diameter to facilitate sending supplies to the miners. Golborne stressed he did not know whether that same drill would then be used to make the hole large enough so that the trapped miners could pass through it.
The miners have been told they could be stuck underground for as long as four months, the head of the rescue operation said Friday.
Officials expect drilling on a rescue shaft, a process that workers have said could take four months to complete, to begin Sunday or Monday.
Herrera said both operations -- to drill the rescue shaft and widen the bore hole -- could be carried out at the same time.
Still, even under the best-case scenario, the trapped miners will be underground for quite some time, posing a host of practical and psychological problems. To help solve them, Chilean officials are looking in unlikely places.
An official at NASA, the U.S. space agency, said on Friday that the organization has been asked by Chile to help provide nutritional and behavioral health support to the miners. A four-person team, including two physicians and a psychologist, are planning to go to Chile next week, said Michael Duncan, NASA's lead on the Chile effort.
NASA has a long history in dealing with isolated environments and thinks experiences in space and underground are not too different, he said.
"It's an opportunity to us to bring the space-flight experience back down to the ground," Duncan said.
Chilean Health Minister Jaime Manalich told reporters on Saturday that 61 metal cylinders have been sent to the miners in the last 24 hours, containing such essentials as water, letters and clean cotton clothing. Rescue workers have also been pumping down compressed, cool air periodically in a bid to keep the enclosed space fresh.
Manalich said each miner has received about 1,500 calories of food in the past day and can expect up to get up to 2,000 calories of food by Sunday.
The rescue effort has been dubbed the "Saint Lorenzo Operation" after one of the miners' patron saints.

Video: Analyzing the miners' video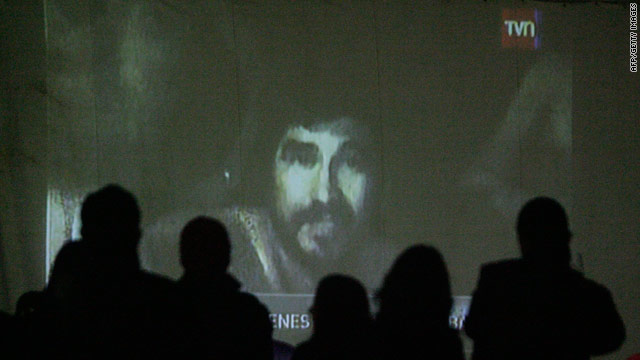 Gallery: Rescue efforts for Chilean miners
The miners have been trying to keep their spirits -- and the spirits of their loved ones -- from flagging. They sent a video message to their families earlier this week in which they expressed thanks for the efforts under way to free them and displayed occasional flashes of humor.
The images showed the 50-square-meter (about 540-square-foot) living space occupied by the men since they were trapped by the collapse of a mine shaft. Some appeared heavily bearded, all of them were stripped to the waist. A thermometer showed 29.5 degrees Celsius, (about 85 degrees Fahrenheit), a little cooler than officials had estimated.
Some of the men were standing, others were lying down. "Oh, you're sleeping on a box-spring bed," joked one man to another, who is sprawled out on a pile of rocks.
On a crate sat a set of dominoes; on a wall were two first-aid boxes. Nearby were two stretchers.
Out of the view of the camera, as one miner finished his message, another could be heard saying, "Get us out of here soon."
Family members who saw the video in a private screening said their loved ones appeared thin but healthy and in good spirits.
Doctors have given the miners advice about how to keep their limited living space clean: Portions of a 1-meter-high (3.3 feet), 40-meter-long (about 130 feet) shaft are being used as a latrine.
It is connected to the main cabin, which is being used for sleeping, washing and praying.
Health Minister Manalich said the trapped miners have organized themselves into shifts to patrol the underground space and to monitor the arrival of shipments sent from above. Rescue workers plan to establish a permanent line of communication by early next week, which would allow miners to talk directly with their family members and friends.
Manalich also reported that all of the miners, including ones who were previously thought to be showing signs of anxiety and depression, are doing well.
"There has been an enormous improvement and some of the miners we were worried about yesterday are now in good shape," he said.
FOLLOW THIS TOPIC