Fidel Castro warns university students of nuclear war danger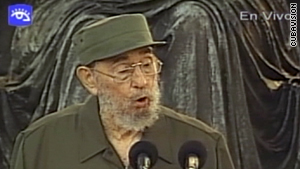 Fidel Castro said it is his "undeniable duty" to keep leading the fight and warn that a nuclear war could break out.
STORY HIGHLIGHTS
NEW: It was Castro's first open-air rally since falling gravely ill in 2006
Castro has made several notable public appearances in the past two months
In recent interviews, he has discussed the potential for nuclear war between the U.S. and Iran
After recovering from illness, he says he is committed to remaining active
Havana, Cuba (CNN) -- Former Cuban leader Fidel Castro led his first open-air rally Friday since a near-death illness four years ago, urging thousands of students packed on the steps at the University of Havana entrance to help prevent a nuclear war.
"I thank you all for your presence and moral support in this fight for peace," Castro said at the end of his 44-minute speech. "I exhort you to not abandon this battle. As in past fights, we can win."
After four years of virtual seclusion, Castro re-emerged in public in July, but mostly in small, tightly controlled events. He has visited an economic think tank, an aquarium and given a shorter speech to the National Assembly.
In a newspaper interview earlier this week, Castro gave new details about the health emergency that forced him out of power in 2006, saying he was at "death's door" and didn't think he would make it. His younger brother Raul Castro assumed leadership.
On Friday, the 84-year-old leader of Cuba's Revolution donned his trademark olive green uniform and cap in a speech carried live by Cuba's international TV channel.
He said it was his "undeniable duty" to keep leading the fight and warn the world that a nuclear war could break out between the United States, Israel and Iran unless U.S. President Barack Obama took action to prevent it.
"The problem for the people today, I mean the more than seven billion human beings, is to prevent such a tragedy from happening," Castro said in a slightly weakened but clear voice.
"Cuba has been given the hard task of warning humanity about this real danger that it is facing."
Castro chose to give his first public rally on the symbolic steps of the university where he started his political career as a young law student in 1945, giving fiery speeches and engaging in debates.
The crowds shouted his name and applauded his characteristic jokes. At one point, Castro paused to tell them: "A bit of good news: I'm almost done."
CNN's David Ariosto contributed to this report.